Carstens Praises Mexico Dollar Auction a Week Before It Ends
by , , and
Central bank head welcomes Lagarde nomination for new IMF term

Emerging markets need to build 'toolbox' to assure liquidity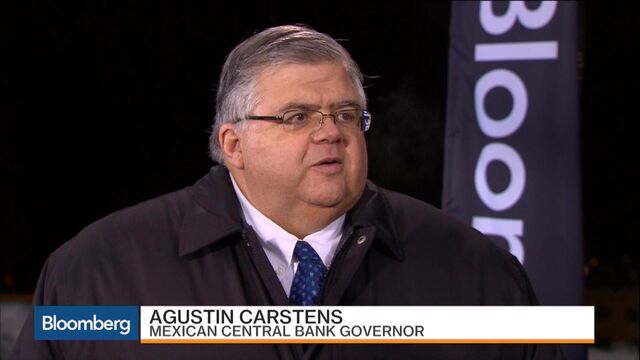 Mexico's central bank Governor Agustin Carstens said daily dollar auctions are working well to prevent imbalances in the market, one week before the program expires. The peso fell to a record low.
Speaking in an interview with Bloomberg TV at the World Economic Forum in Davos, Switzerland, Carstens said that the nation's currency commission needs to evaluate whether to extend the auctions or change the amount. Any intervention would be "rules based," he said.
Finance Minister Luis Videgaray said Wednesday it was highly probable Mexico will extend the dollar sale program. The central bank currently offers $200 million a day in auctions triggered when the peso weakens 1 percent from the previous day's fixed rate and an additional $200 million in sales when it declines by at least 1.5 percent. The intervention hasn't prevented the peso plunging 7.1 percent this month through yesterday.
"We have been doing some intervention," Carstens said. "We need to let the floating exchange regime work. One thing is to smooth fluctuations, the other thing is to defend a level. I think that market based rules of intervention have worked very well for Mexico."
The peso reversed its gain as Carstens spoke Thursday, touching another record low and depreciating 1 percent to 18.7211 pesos per dollar as of 1:47 p.m. "Anyone hoping for outright intervention is likely to be disappointed" by Carstens' comments, Christian Lawrence, a currency strategist at Rabobank, said in an e-mailed response to questions. "Some might have thought the Bank would step in and intervene in spot."
Carstens said a lack of liquidity is driving changes in foreign-exchange markets more so than fundamentals, and emerging markets need to build a toolbox of measures to ensure liquidity in their countries. He'd said last week that in the face of capital outflows, emerging market authorities may need to copy the behavior of advanced economies during the 2009 crisis and step in to ensure financial market liquidity.
The central bank chief confirmed that he won't be a candidate for the International Monetary Fund's managing director this year and said he was happy Christine Lagarde is being nominated for another term to lead the fund.
Before it's here, it's on the Bloomberg Terminal.
LEARN MORE