Canadian Stocks Rally Amid ECB Stimulus Prospects, Oil Gains
by
Energy shares lead S&P/TSX after stocks lose $1.1 trillion

Bombardier tumbles 9.2 percent to lowest since April 1991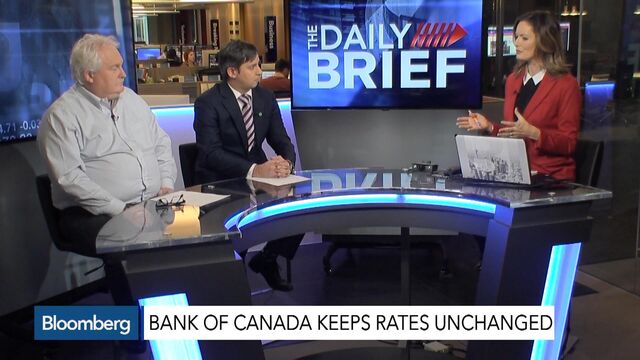 Energy shares led Canadian stocks higher to their biggest gain of 2016, as comments by Mario Draghi fueled speculation that the European Central Bank may bolster its stimulus programs as early as March.
The S&P/TSX jumped 1.6 percent to close at 12,035.86 at 4:00 p.m. in Toronto. The index rallied the most since Dec. 16 as energy companies posted the biggest gains among the 10 main industries, followed by utilities and consumer-staples stocks. The benchmark gauge, which entered a bear market two weeks ago, touched yesterday its lowest level since August 2012. It's down about 7.5 percent year-to-date.

Global equities rebounded after $1.1 trillion was wiped from the value of stocks yesterday as investor sought reassurance from Draghi that downside risks to the euro-area economy have increased since the year began. The central bank kept interest rates unchanged at record lows. That followed a decision Wednesday from Bank of Canada policy makers, who kept their benchmark interest rate unchanged, saying stronger U.S. demand, a weaker currency and two rate cuts last year are leading the economy out of an oil slump.
Canada's currency strengthened for a second straight day against its U.S. peer following 13 days of weakening.
Energy companies surged 5.4 percent, the most since August, after four days of declines. Baytex Energy Corp. jumped almost 24 percent, its biggest gain ever. Paramount Resources Ltd. soared 28 percent before trading halted temporarily and the stock closed 15 percent higher. Similarly, Penn West Petroleum Ltd. rose 14 percent after its chief financial officer said at a conference the company expects additional asset sales this year. 
Utilities stocks advanced 2.2 percent, led by a 5.9 percent gain for Transalta Corp. Shares of consumer-staples jumped 2.1 percent, with Alimentation Couche-Tard Inc. and George Weston Ltd. both adding at least 2.9 percent.
Raw-materials companies slumped as much as 2.5 percent, briefly touching levels last seen in 2005, before paring the losses to close 0.8 percent lower. Industrials stocks fell for a third straight day as Bombardier Inc. tumbled 9.2 percent to the lowest since April 1991 after United Continental Holdings Inc. said it would buy Boeing Co.'s smallest jetliners, snubbing Bombardier's C Series.
Canadian Pacific Railway Ltd., which is attempting to acquire Norfolk Southern Corp., sank as much as 7.4 percent after reporting fourth-quarter earnings that missed analyst estimates as revenue fell amid declines in cargo including crude, metals and minerals. The stock closed down 0.9 percent.
Before it's here, it's on the Bloomberg Terminal.
LEARN MORE