Cameron Takes `Brexit' Referendum Push to Executives in Davos
by and
GlaxoSmithKline, Goldman Sachs Group want Britain in EU

EU membership means `a big win,' Glaxo CEO Witty says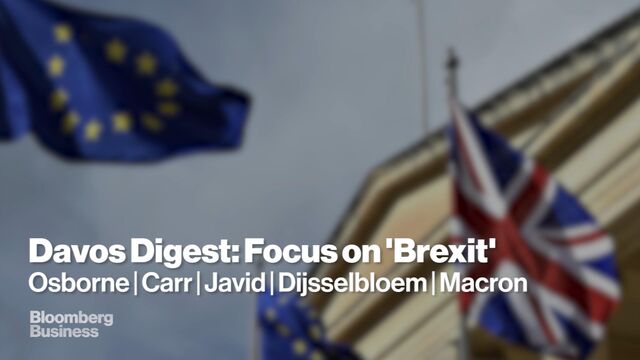 U.K. Prime Minister David Cameron will lobby business and political leaders in Davos ahead of the referendum on so-called Brexit as Goldman Sachs Group Inc. and GlaxoSmithKline Plc rallied behind the push to keep Britain in the European Union.
Andrew Witty, Chief Executive Officer of GlaxoSmithKline, said in a Bloomberg TV interview at the World Economic Forum in Switzerland that EU membership has brought "fragmented, independent, not-talking-to-each-other" regulators together in a single agency.

"They are are drawing resources from all member states, it is an incredibly sophisticated, capable organization" on a par with the U.S. Food and Drug Administration, Witty said. "That's a big win, and so for us that is probably the most important aspect of being part of the EU. We think it is a very important benefit."
Goldman Donation
According to a person familiar with the matter, Goldman Sachs Group donated hundreds of thousands of pounds to the campaign to keep the U.K. inside the EU. The contribution was made to the Britain Stronger in Europe group and is the latest sign that the banking industry is fighting a British exit from the EU amid concern it would jeopardize London's role as a global financial center.
"We are not going to discuss individual donations at this stage," said James McGrory, chief campaign spokesman for the group. "At this stage, we are pleased that we have gathered donations from a wide range of individuals and businesses who believe that Britain is stronger, safer and better off in Europe."
Goldman Sachs leaders including Chief Executive Office Lloyd Blankfein and President Gary Cohn previously have said it would be best for the U.K. to remain in the EU. Michael DuVally, a company spokesman, declined to comment on the donation, which was reported earlier on Wednesday by Sky News.
The U.K. car industry is also opposed to abandoning the world's largest trading bloc. Phil Swash, head of GKN Plc's car division, told reporters Wednesday night that Brexit could hurt his unit's revenues of about 4 billion pounds ($4.4 billion) a year, since only 200 million pounds came from U.K. sales.
Cameron Optimism
German Finance Minister Wolfgang Schaeuble said it would be a "catastrophe" if the U.K. left. "I hope the Britons decide to stay," he told a panel in the Swiss ski resort.
Cameron will address global business leaders in Davos from Thursday. He has recently expressed optimism that he'll be able to strike a deal with fellow EU leaders on renegotiated British membership terms at their next summit in February. Foreign Secretary Philip Hammond on Wednesday became the most senior U.K. cabinet minister to indicate that the referendum may be held as soon as June.
The topic of Brexit has already proved a subject of conversation in Davos with Siemens AG CEO Joe Kaeser urging the U.K. to back continued membership.
"It would be a real loss for a powerful Europe to be built if it was built without the U.K. resources," he told Bloomberg Television. "It's all doable, but it would be more desirable if you had the U.K. being a strong part of Europe."
Goldman Sachs's intervention in the Brexit debate is just the latest from within the City of London, as the U.K.'s financial district is known. Barclays Plc Chairman John McFarlane told Bloomberg last week that Britain's financial industry would be damaged if the country left the EU and that the debate already had repelled some foreign investment.
Before it's here, it's on the Bloomberg Terminal.
LEARN MORE