Cameron May Seal EU Accord Next Month, Ireland's Kenny Says
Joe Brennan and Hans Nichols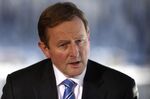 U.K. Prime Minister David Cameron may secure agreement on a European Union reform deal next month, his Irish counterpart Enda Kenny said.
The main sticking point in the renegotiation before a vote on Britain's membership of the EU is over whether the nation will be allowed to restrict welfare payments to EU citizens who move there for work.
"It may not be exactly what the prime minister put on the table, but it may well achieve the same result," Kenny said in an interview with Bloomberg TV in Davos on Thursday. "The European Union would be much weaker without Britain being a central part."
Cameron has recently expressed optimism that he'll be able to strike a deal with fellow EU leaders on renegotiated British membership terms in February. The referendum, which Cameron has pledged to hold before the end of 2017, may take place as early as June this year, Foreign Secretary Philip Hammond said on Wednesday.
Kenny will himself face voters in an election due to be held within three months. In the interview at the Swiss ski resort, Kenny said the vote will be held in "early spring," correcting an earlier reference to early February. He said he'd serve a second full term if re-elected, but wouldn't seek a third term.
Kenny is seeking to portray the campaign as a battle between stability and chaos, represented by Sinn Fein and other left-wing parties.
"I don't think there's any chance of Sinn Fein being in government," Kenny said. "Their economic policies would absolutely devastate the Irish economy."
Before it's here, it's on the Bloomberg Terminal.
LEARN MORE