Cashiers and Tellers Stand Up for a Seat
California justices consider the meaning of an obscure 1913 order.
By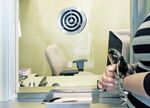 In California a 1913 regulatory order requires employers to provide a chair when "the nature of the work reasonably permits the use of seats." After a six-year legal battle, the state's highest court is considering whether that means Bank of America, CVS Health, JPMorgan Chase, and others must provide seats for tellers and cashiers. A loss for the companies would mean tens of millions of dollars in penalties, as well as the costs associated with changing their seating arrangements. "It would simply not work in the real world, as applied to real jobs," the U.S. Chamber of Commerce said in a friend-of-the-court filing.
The seating suits are part of a legal phenomenon made possible by California's Private Attorneys General Act of 2004. PAGA gives employees the right to step into the shoes of the state labor commissioner and sue over alleged labor violations, including conditions for which there's no remedy under existing law. Unique in the U.S., the state law was intended to guarantee workers' rights where the state lacked resources to enforce the law.
PAGA has since become a favorite tool of plaintiffs' lawyers, who've mined progressively more obscure corners of state law to find fresh infractions. State records show that claims have quadrupled, from 759 in 2005 to more than 3,000 in 2013. Workers have successfully used the law to sue over everything including unpaid meal breaks and pay stubs that failed to list an employer's legal address. Under PAGA, workers keep 25 percent of any penalties won and the rest goes into state coffers, not including fees for the lawyers, which can exceed the total paid to workers and the state.
Lawyers representing workers say it's been a cost-effective tool for improving working conditions in California. "Businesses were cheating workers out of a dollar here, a dollar there," says Michael Rubin, who represents JPMorgan Chase tellers and CVS cashiers. Those representing businesses say it's created more problems than it's solved by lowering the burden to sue over relatively minor issues. "Nobody cared much about suitable seating before there was a statute that incentivized plaintiff lawyers to bring these cases," says Tripper Ortman, a lawyer with Seyfarth Shaw in San Francisco.
At least three seating cases are pending before the federal court of appeals in San Francisco. At the request of the appeals court, California's supreme court heard arguments on Jan. 5 about how to define "the nature of the work," a concept left vague in the original 1913 order by the state's Industrial Welfare Commission. A lawyer for CVS argued that standing is critical to the drugstore chain's customer service. "What did we all do when court began?" attorney Tim Long asked the justices. "We rose. It's a sign of respect." Justice Carol Corrigan had a quick retort: "Yes, but you didn't stay standing all afternoon."
—With Kartikay Mehrotra
The bottom line: Under a 2004 law that lets employees sue over minor code infractions, banks and drugstores are at risk of millions in penalties.
Before it's here, it's on the Bloomberg Terminal.
LEARN MORE