Brookfield Property Sees Buy Opportunity Amid Oil City Slump
by and
Oil decline is creating bargains in cities as vacancies rise

`There are some pockets of opportunity,' Chairman Clark says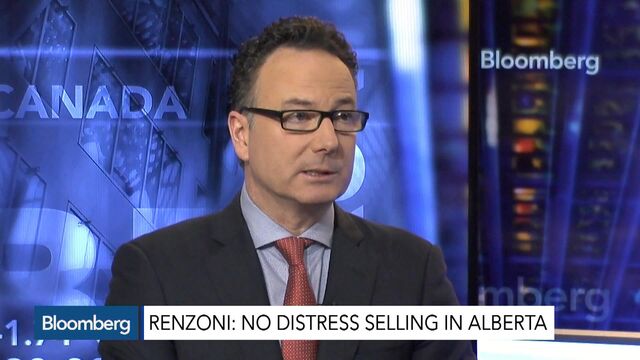 Brookfield Property Partners LP is shopping for buildings in North American cities hardest hit by the oil slump, as pressure on the local economies creates discounts.
Alberta, Canada, is one place where Brookfield can find low prices on properties and energy-related businesses, Chairman Ric Clark said in an interview in Dubai, where the company this week announced plans to build $1 billion skyscraper with a partner. Brookfield is also looking at apartment towers in Houston, he said.

"Canada is in good shape overall, but there are some pockets of opportunity and we may well do some investing in those markets." Clark said. "We've done little investing over the last five, maybe even 10 years" in Canada, "but are starting to see some opportunities."
Office values have slumped in Houston, and office vacancy rates have reached 18 percent in central Calgary, according to property broker CBRE Group Inc. Both oil-dependent cities have seen unemployment climb after crude oil prices dropped by more than 75 percent from a high in 2014.
Canada is ripe for investment because of its weak currency and a slide in commodity values, Bruce Flatt, chief executive officer of Brookfield Asset Management Inc., the majority shareholder of Brookfield Property, said earlier this month. Brent oil extended its decline from the lowest close in more than 12 years Thursday.
Brookfield Property owns office buildings in Calgary including the Bankers Hall East complex and Brookfield Place East, which is due for completion next year. Cenovus Energy Inc. is signed on as a lead tenant to take one million square feet (93,000 square meters) out of the 2.4 million square feet across two towers.
Clark said Brookfield isn't worried about its own occupancy thanks to the long-term leases it has in place. Still, Brookfield may struggle to find the deals it's seeking in Calgary even as tenants pressure from the oil sump.
"There are no discounted assets," said Paul Morassutti, an executive managing director at CBRE in Canada, has been fielding phone calls from international investors looking for bargains in Calgary. "Our response is always the same: 'good luck with that.' None of the owners are under distress. None have any intention of selling at a discounted price into this market."
Brookfield recently cashed in on properties in two of Canada's headiest real estate markets. It sold a 17-story office building in Toronto's financial core to Anbang Insurance Group Co. last year and is in the process of selling the Royal Center in Vancouver. Clark said in August that the investor plans to sell more than C$1 billion in assets in mature market to raise money for acquisitions.
"Real estate markets, oil, commodities markets are all cyclical," Clark said. "Supply and demand always impact the value and now there is lots of supply for energy."
Before it's here, it's on the Bloomberg Terminal.
LEARN MORE