Bond Traders Bet on Slowest Fed Yet as Soros Sees No More Hikes
by
Derivatives signal one hike priced in this year, down from two

Benchmark 10-year yield rises from lowest level since October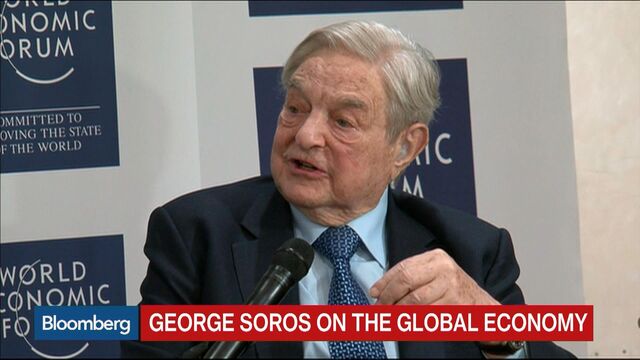 The bond market is starting to doubt whether the Federal Reserve will be able to raise interest rates at all this year as the global economic outlook dims.
Traders have gone from betting on two Fed increases in the next year -- half the pace policy makers signaled last month -- to just about one, as inflation expectations have tumbled to multiyear lows and stocks worldwide have crashed. Even late last year, when investors were fretting about China, traders never bet on fewer than two hikes, according to a Morgan Stanley index.

Billionaire investor George Soros said on Bloomberg Television that he'd be "very surprised" if the Fed raised interest rates again, and that he's bullish on government debt. He said a slowdown in the Chinese economy is contributing to global deflation. The Fed's preferred gauge of inflation hasn't hit the central bank's 2 percent target since 2012.
Judging by futures, investors see the fed funds effective rate rising to 0.60 percent by year-end. That's below to the 0.62 percent level that would signal one rate increase, assuming the Fed raises its target range by 0.25 percentage point, following liftoff from near zero last month. Futures imply a 20 percent chance the Fed will boost rates at its March meeting, and it's not until September that the chances exceed a coin flip, data compiled by Bloomberg show.
"Our view is, we'll be lucky to get one more Fed increase through 2016," said Sean Simko, who manages $8 billion at SEI Investments Co. in Oaks, Pennsylvania. "The Fed will remain sidelined until the data presents a clear picture."
2016 Rally
Treasuries fell Thursday, driven by an oil-price rebound. The benchmark 10-year yield rose five basis points, or 0.05 percentage point, to 2.03 percent as of 5 p.m. New York time, based on Bloomberg Bond Trader data. The 2.25 percent security due in November 2025 fell 14/32, or $4.38 per $1,000 face amount, to 101 30/32. Ten-year yields sank to 1.94 percent Wednesday, the lowest since Oct. 2.
Investors are concerned that the tumult in financial markets may be reflecting -- or even feeding into -- a global economic slowdown. As oil prices plunged, a measure of investor fear of junk-bond defaults staged its biggest jump to start a year since 2009.
Citigroup Inc.'s clients expect that global economic conditions will limit the Fed's ability to raise rates, according to a note from the bank Thursday. More than three-quarters of respondents who answered the bank's survey don't expect the Fed will raise rates above 1 percent during this hiking cycle. To compare, the median forecast in the central bank's December projections called for borrowing costs to rise to 1.375 percent in 2016.

"Is the global economy really headed for trouble? Sub-30-dollar oil is telling you that's a significant possibility," said Aaron Kohli, interest-rate strategist in New York with BMO Capital Markets, one of 22 primary dealers that trade with the Fed.
Even so, the plunge in risk assets could be "more about the market feeding into itself, where volatility begets more volatility," he said. "None of the economic data we've seen supports the levels we're getting."
With crude oil prices down 20 percent in 2016, a bond-market gauge of inflation expectations is trading near its lowest level since 2009. The 10-year break-even inflation rate, or the gap between yields on 10-year notes and comparable inflation-linked debt, was about 1.33 percentage points Thursday.
Data on U.S. growth have come up short relative to economists' expectations this year, according to the Bloomberg Economic Surprise Index. But while the indicator has dropped to negative 0.532 this year, it remains above its 2015 low of negative 0.873.
Before it's here, it's on the Bloomberg Terminal.
LEARN MORE