Bond Investors Forget December Dismay as Draghi Put Rises Again
by
Draghi signals more ECB easing likely in March meeting

Markets pricing in 10 basis-point cut in deposit rate in March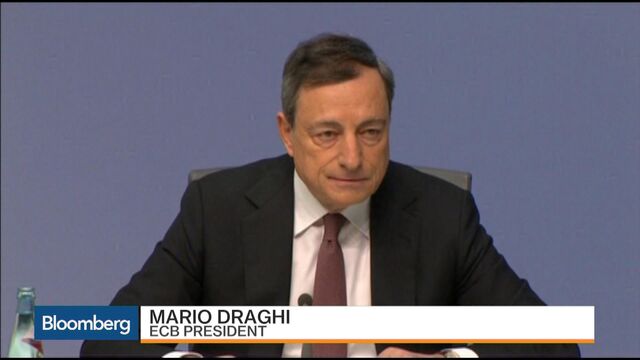 It's as if the European Central Bank's December meeting never happened.
After ECB President Mario Draghi's indication on Thursday that the institution will reconsider its policy stance in March, German 10-year yields dropped to the lowest since October, while those on short-dated debt across the region slid to record lows. The plunge in yields recalls the reaction to a similar statement in October, when Draghi whipped the market into a frenzy of anticipation that the institution was ultimately unable to match.
On Dec. 3, when the ECB announced a 10-basis-point cut in the deposit rate and extension of the quantitative-easing program by six months, German 10-year yields jumped the most since November 2011 as the package underwhelmed some investors. Even so, after Draghi's latest speech, investors are reloading their stimulus bets, with forward contracts based on the euro overnight index average, or Eonia, currently pricing in a 90 percent chance of a 10 basis-point cut to the ECB's deposit rate in March this year, data compiled by Bloomberg show.
"Most people will be expecting Draghi to initiate fresh policy action in March assuming that oil prices and the Chinese situation remain quite worrying," said Owen Callan, a Dublin-based fixed-income strategist at Cantor Fitzgerald LP. "It is now a case of whether he can fully deliver what he is suggesting as opposed to in December when there was a bit of an underwhelmed response to what he actually delivered. There is a huge risk that we have the same level of disappointment."
Benchmark German 10-year bond yields fell three basis points, or 0.03 percentage point, to 0.45 percent as of 4:48 p.m. London time. It earlier touched 0.43 percent, the lowest since Oct. 28. Yields on German five-year notes, and Austrian, Belgian, French and Finnish two-year securities touched record lows.
"The key issue remains the same as in December," said Marc Ostwald, a London-based analyst at ADM Investor Services International in a note to clients. "The ECB must do much better than it did ahead of the December meeting to manage market expectations -- nothing more, nothing less. Draghi can ill afford another communications debacle, particularly against the backdrop of currently very frayed market."
Before it's here, it's on the Bloomberg Terminal.
LEARN MORE