Boeing to Report $569 Million Cost as 747 Jumbo Output Cut
By
Planemaker says it will halve production of the iconic jet

Orders have lagged as the cargo market slumps, company says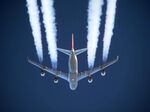 Boeing Co. plans to report a $569 million after-tax accounting loss as it cuts production of the iconic 747 jumbo jet in half amid waning demand for four-engine aircraft and a slumping cargo market.
The planemaker will reduce output of the humpbacked 747, Boeing's largest jetliner, to six aircraft a year starting in September. The company previously said it would slow annual production to 12 beginning in March, the latest in a series of reductions made as the order backlog for the jets has shrunk.
"The air cargo market recovery that began in late 2013 has stalled in recent months and slowed demand for the 747-8 Freighter," Ray Conner, chief executive officer of Boeing's commercial airplane unit, said in a statement.
Nicknamed the "Queen of the Skies" for its graceful lines, the jumbo made long-range travel affordable for a mass consumer market when it was introduced in 1970. Sales have sputtered over the past decade, as more-efficient twin-engine aircraft such as Boeing's 777 gained popularity.
Boeing had just 20 unfilled orders for the 747-8, the latest jumbo model, as of December, according to its website. The planemaker netted only two orders last year, buying freighter versions itself and leasing them to Russia's AirBridgeCargo Airlines.
If it can sustain production, Boeing sees a chance to capitalize later this decade as cargo operators look to replace hundreds of 747-400s, the best-seller of the jumbo family. The aircraft is the largest of Boeing's commercial freighters and the only model able to load bulky cargo through a hinged nose that flips open.
The after-tax accounting loss amounts to 84 cents a share, Boeing said. On a pretax basis, the production change will cost its commercial airplane unit $885 million. The earnings charge will not affect Boeing's 2015 revenue or cash flow when fourth-quarter results are announced Jan. 27.