BOE's Weale Sees Price Pressures Brewing Even as China Slows
by and
MPC member speaks in Bloomberg interview at BOE in London

Says inflation may be quite a bit higher but for food, oil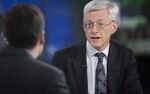 Inflation pressures are brewing in Britain and may intensify as the impact of the strong pound and weak commodity prices fade, Bank of England policy maker Martin Weale said.
While he's awake to the risks of financial contagion from China, Weale said on Thursday he has a positive outlook on the U.K. economy and that the slump in oil is bolstering growth. In a wide-ranging interview in his office at the central bank in London, the policy maker said the factors restraining him from voting to increase rates now could fade.

"If wages are being held down by low inflation, that has the possibility of a bite to it," he said. "Most of the analysis suggests that inflation is where it is rather than quite a bit higher because of one-off effects from food prices and commodity prices. It's quite possible that wage growth will accelerate in step."
The pound's drop on a trade-weighted basis "could easily offset, or more than offset, the oil-price effects and the wage effects" that are holding down inflation, he said.

Weale's views will be closely followed for signs he will join fellow official Ian McCafferty in voting for an increase in the BOE's key rate from 0.5 percent. In January 2015, the two officials reversed their pushes for a quarter-point rise, citing falling energy prices. McCafferty resumed his call in August.
The currency's drag on inflation and low commodity prices informed Weale's vote last month for no change, and those factors are still being felt, he said. Pay growth isn't yet strong enough to keep inflation at the bank's 2 percent target.
Higher Wages
Weale agreed with Governor Mark Carney's assessment, delivered in a speech on Tuesday, of the need for higher wage gains before raising rates. At the same time, he also understood how McCafferty justified his vote for a quarter-point increase with a tighter labor market.
"I certainly wouldn't want to wait until I was absolutely clear that an increase was needed," Weale said. "To my mind, in January, we weren't at the point where it seemed more likely than not."
The central bank will publish the results of its latest forecasting round on Feb. 4, and Weale declined to say how he thought these would change from November, when officials forecast an overshoot of the 2 percent target at the three-year horizon. He said that if he'd published his own projections at that time, his assessment of inflation in three years would have been "slightly higher" than the collective judgment.
Weale's positive outlook for the U.K. looks through current volatility from China and emerging markets and is underscored by a pickup in productivity growth.
"For the British economy, what happens in the euro area is something like three times as important that what happens in China," he said. Officials need to be "very awake to the risks of financial contagion. The experience of the financial crisis is that you have to be," Weale said.
'Brexit' Effect
Britain also seems to be weathering potential pressure from the run-up to the referendum on membership in the European Union, he said. Prime Minister David Cameron has yet to set a date for the vote, though it could happen as soon as June.
The bank's agents "haven't seen any material evidence" of an impact on business investment from the referendum, Weale said. "It's the same as what happened during the euro area crisis, financial markets, prices of shares and things were affected, and we produced our forecasts contingent on those. From my point of view, I will look at what the prospects are for the economy and their implications for inflation."
The BOE's Monetary Policy Committee has put the labor market at the heart its debate over when to remove the emergency policy settings it put in place to ward off the financial crisis. Weale said one key part of the puzzle -- why productivity fell even as the economy recovered -- was now in place.
"I'm feeling fairly upbeat about the prospects for the British economy," he said. "The evidence that we've turned a corner with productivity growth is stronger than it's been throughout my tenure on the committee," which began in 2010, according to Weale.
Labor Puzzle
The unemployment rate fell to 5.1 percent in the three months to November, a shade above what the central bank says is the non-inflationary level. He said he was "surprised" by the combination of low unemployment and weak wage growth, and that combination of forces isn't likely to last.
Weale spoke a day after delivering a speech which assessed inflation pressures in the labor market stemming from a transition to a shorter working week. The findings affect his views on consumer-price gains in the medium- to longer-term, he said, adding that in the short term the current rate of pay growth at 2 percent is still too low to justify an interest-rate increase.
"We need wage growth to pick up, I'm talking about 0.3 percent a year," he said. "We need it to pick up slightly less than you would think if you weren't aware of the possibility that the working week might fall slightly."
The impact of low inflation on pay doesn't imply that price expectations have been dislodged, he said. He said they should remain anchored as weak commodity prices fade.
Committee Split
Were the bank to start to raise the key rate to 0.75 percent, that wouldn't necessarily signal that policy was on an upward path, he said.
"It would mean that the committee would have decided that three quarters of a percent was the right rate at the moment," he said. "As things develop it could decide that the rate needs to go higher or it could decide that it needs to go down again."
While Weale noted that some of the pressures dragging down inflation may yet persist, he insisted it's not wise to delay tightening.
"If you leave it where it is until you're absolutely sure that it needs to change, you can be sure that you've waited for too long," he said.
Before it's here, it's on the Bloomberg Terminal.
LEARN MORE