markets
Blythe Masters Firm Raises Cash, Wins Australian Contract
By
Distributed ledger tech to speed Australian stock settlement

JPMorgan, Citi, CME, ICAP participate in $52 million funding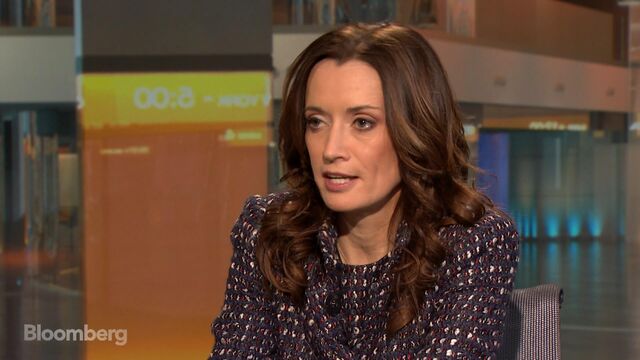 Digital Asset Holdings, the blockchain startup run by former JPMorgan Chase & Co. banker Blythe Masters, raised $52 million from investors and won a contract to radically speed up settlement in Australia's stock market.
The deal with ASX Ltd., Australia's main exchange operator, is the boldest attempt yet to prove the worth of a so-called distributed ledger system. ASX agreed to invest A$14.9 million ($10.5 million) into Digital Asset, joining other investors including JPMorgan, CME Group Inc. and ICAP Plc. The funding round was more than two times oversubscribed and values New York-based Digital Asset at $100 million, according to people familiar with the matter.
Digital Asset is among about a dozen startups that are racing to prove that blockchain, the technology underlying bitcoin, can be applied to financial markets. While in today's securities markets a central authority oversees the transfer of cash for shares, DAH aims to link all participants in that process on the same database to allow real-time movement of assets. While the aim in Australia is to reduce settlement times to minutes, regulators in the U.S. are currently working to cut it to two days from three.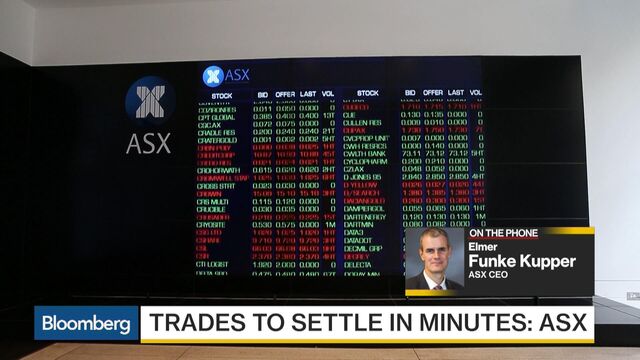 "We can now trade equities in 150 microseconds, then it takes two days to
settle. That makes no sense," Elmer Funke Kupper, chief executive officer of ASX, said in an interview. "A retail investor in Australia should be able to sell their shares, go to the nearest ATM and get their cash out." ASX said a year ago that it would replace all of its core technology systems. Digital Asset beat out 400 applicants for the contract to remake its clearing and settlement system. The Australian company invested about $10 million in Digital Asset, Funke Kupper said.
"The moment we started to think about it, we realized that this is about much
more than replacing our back-office systems," he said. "This is the first opportunity in 20 years to re-engineer the way the market operates end-to-end. We should not miss that opportunity."
Nascent Technology
After more than a year of enthusiastic talk about how the blockchain or distributed ledgers can transform finance, 2016 looks to be the year when those ideas are put to the test. Earlier this week, R3, a blockchain startup backed by 42 banks, said it successfully simulated trades of digital assets on a private network made up of 11 of its members. Overstock.com Inc. is close to unveiling the first securities-trading system using blockchain, while Nasdaq Inc. recently said it used the technology to complete and record a private securities transaction for the first time.
"From the outside this looks like the first real application of blockchain in a major clearing operation," said Rich Repetto, an exchange and brokerage analyst at Sandler O'Neill & Partners LP in New York. He said that so far it appears Nasdaq and ASX are out front in this new technology. "It's still early, but if anyone's going to get there it'll be the ones who are aggressive from the start," he said.
The other investors in Digital Asset are Accenture Plc, Deutsche Boerse AG, Depository Trust & Clearing Corp., Citigroup Inc., BNP Paribas SA, Broadridge Financial Solutions Inc., PNC Financial Services Group Inc., Banco Santander SA and ABN AMRO Group NV. The board of directors of Digital Asset will grow to nine members from four, with added representatives from BNP Paribas, Deutsche Boerse, JPMorgan and DTCC and one as yet to be named, Masters said in an interview.
"It's a unique cross-section of investors and customers who are investing a material amount of money in a technology that has the potential to transform their businesses," she said. Regarding the ASX investment and project, Masters said, "It's the first real, large-scale commercial project for any distributed ledger business. This is the first instance of something that's much more than hype."
Obstacles
Distributed ledgers face obstacles to success. Fierce competitors will need to collaborate. Regulatory hurdles could kill or significantly slow progress. And although cross-border payment networks could save banks money, it would also drain revenue away from other parts of their business.
Another challenge is integrating new technology into existing systems, Masters said in an interview on Bloomberg Television. On the plus side, she said, distributed ledgers can make markets easier to regulate.
"There's the opportunity to enhance what regulators see and receive so you actually add to transparency," she said. Other financial products that could be overhauled using blockchain include fixed income, syndicated loans, foreign exchange settlements, and derivatives, Masters said.
ASX Warrants
ASX was granted the right to purchase warrants to increase its equity stake in Digital Asset and appoint a board member if certain conditions are met, Masters said. Two other types of warrants exist, according to a person familiar with the matter. The first are revenue warrants that would be rewarded to any customer or investor who brings in sales for Digital Asset, the person said.
The second type of warrant was issued to JPMorgan and can be exercised only if the bank works exclusively with Digital Asset on two different products that result in their widespread adoption, the person said. They were issued at the same cost of the other investments and all early investors had the chance to receive the warrants if they agreed to the terms, the person said.
JPMorgan invested about $7.5 million in the round, according to a person familiar with the matter. Tasha Pelio, a JPMorgan spokeswoman, declined to comment.
ASX is introducing blockchain to the world's 12th-biggest stock market, as measured by the $917 billion value of companies listed in Australia.
Funke Kupper said he knew how difficult it will be to implement such a large change to his exchange. "We will need the support from investors, our clients, regulators and the government," he said. "We're going to start a journey of discovery. We don't know where it will end, but we know where it begins. It begins right here in Sydney."
— With assistance by John Detrixhe
(
Adds Masters comments from TV interview in 11th paragraph.
)
Before it's here, it's on the Bloomberg Terminal.
LEARN MORE