Aristocrat Draws Two Bets From Macquarie: Buy and Sell
Vivek Shankar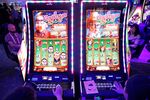 Betting on Australian slot-machine maker Aristocrat Leisure? Macquarie Wealth Management says buy the shares. It also says sell them.
Investors should buy the shares to reap gains in the next 12 to 18 months, according to a Macquarie model for longer holding periods. Aristocrat offers investors "growth in an environment where growth is a scarce resource" and its projections for profit and revenue "remain strong relative to the broader market," Macquarie said in a note to clients on January 19.
Profit, excluding some items, at Aristocrat rose 45 percent in fiscal 2015 and is projected to climb 60 percent this year as the company expands in the U.S. That's helped the shares more than double in the past two years while the benchmark ASX 200 index has dropped 8.8 percent.
Those gains won't continue, according to analyst Sam Dobson, because Aristocrat is facing more competition. As of Dec. 24, the shares were rated underperform, calling for a return that lags the benchmark by more than 3 percent.
It's one of only two sell ratings from 13 analysts tracked by Bloomberg. The 12-month price target of A$8 is 15 percent lower than yesterday's close.
The model used for this week's call has led to buy recommendations that beat the wider market by an average of 5.85 percent, Macquarie said. It also noted the difference in opinion on Aristocrat.
Before it's here, it's on the Bloomberg Terminal.
LEARN MORE