Art
Annie Leibovitz Teams Up With UBS, Is Ready for Hillary
Talking passions, Sheryl Sandberg, and Hillary Clinton upon the opening of Women: New Portraits in London.
By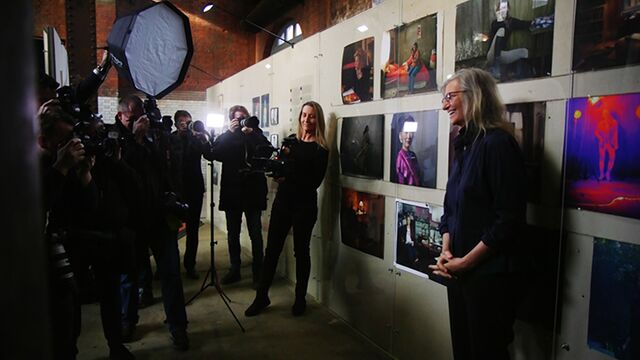 What brings a global bank like UBS and a global icon like Annie Leibovitz together? Art. With a side of reputation management.
Like Pirelli did with its pinup calendar, the world's largest wealth manager hired Leibovitz in 2015 to recast its image and reframe the dialogue after years of various scandals. The award-winning photographer shot the bank's "Life's Questions" advertising campaign, which features entrepreneurs, parents, artists, and business leaders questioning their next steps in life. Afterward, the company went a step further, commissioning Leibovitz to update her series Women, which began in 1999 with Susan Sontag. The original work featured more than 100 portraits of women at the end of the 20th century, from public figures to farmers, scientists, and dancers—a collection of women both known and unknown, but above all real.
Now, 20 new portraits have been added to the collection.

Building a Partnership
Leibovitz told Manus Cranny of Bloomberg Television how this partnership continued to flourish when UBS approached her and asked what she really wanted to do.
"They came to my office in their suits, and I'm always suspicious, you know," said Leibovitz, who said her answer was to update the Women series. "In my work for Vanity Fair and Vogue, I can't sometimes take the pictures that I really want to take."
Leibovitz's new photographs, which include Caitlyn Jenner, Taylor Swift, Adele, Aung San Suu Kyi, and ballerina Misty Copeland, will be shown in 10 cities over the next 12 months. It's UBS's largest touring show ever, and it will be free to the public. The financial-services firm is recognized as having one of the most important corporate collections of contemporary art—more than 35,000 works by artists from the 1960s onward, like Cindy Sherman, Tina Barney, and Sam Taylor-Wood.
One of her favorite women photographed in the new installment is Facebook's Sheryl Sandberg.
In Sandberg's portrait, she sits comfortably with one leg crossed and folded under the other in her chair. "It was interesting about Sheryl Sandberg because she is helping women come along, and she's not that different from me in that respect," said Leibovitz, fondly. "Her face has a whole new kind of resonance. … I don't know too many CEOs of a company who come in and just sit like that in a chair."

Ready for Hillary
One of the women featured in the original series is presidential hopeful Hillary Clinton. Leibovitz photographed her as first lady 15 years ago.
Is America ready for a female president? "Yes, absolutely. Is America ready for Hillary Clinton? That's another question."
Leibovitz sat comfortably on an old wooden table in a quiet room filled with dark leather chairs and books of her work over the years. The room was tucked away in Wapping Power Station, where her exhibit made its debut in London this past Saturday and will be on view until Feb. 7. She went on to say that America should just "elect Hillary and move on. It's inevitable the way Obama was inevitable. She's the best candidate for the president of the United States."
It seems that Hillary and Annie's next encounter is inevitable, too. Leibovitz mentioned that even though Clinton might not know it yet, she plans to spend some time with the former first lady this year.
Doing what? I think we can guess.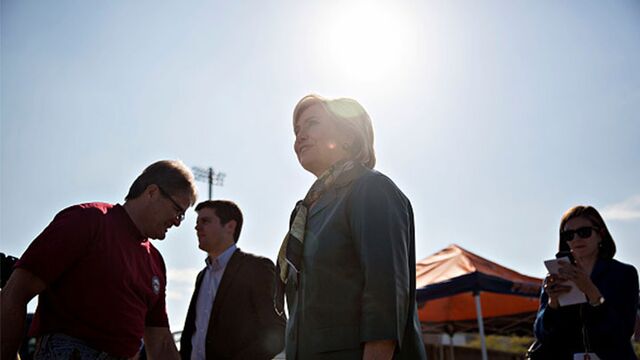 Before it's here, it's on the Bloomberg Terminal.
LEARN MORE