Analyst Lowers GrubHub Targets on UberEATS Expansion
Taking a bite out of market share.
by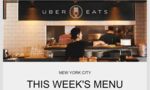 Uber just confirmed it's planning to expand its "rapidly expanding global presence" into new territory: food delivery.

The news has prompted shares of a certain other food delivery company to drop sharply in early trading on Thursday.
According to an announcement by the most notable member of the billion-dollar startup club, Uber has plans to expand its full-service food delivery business to 10 U.S. cities, including Los Angeles, Chicago, and New York, beginning in March. UberEATS already has a more limited menu available in a number of these cities, but after testing the full menu in Toronto, it has decided to expand its disruptive food footprint in the U.S.
According to equity analyst Kevin Kopelman at Cowen & Co., this will hurt such other food delivery companies as GrubHub.
"We see Uber's existing install base of both users and drivers as providing potentially important advantages vs. many existing competitors in food delivery," he said in a research note. The analyst also lowered his GrubHub price target to $20 from $22, citing Uber's "cost and speed advantages."
Shares of GrubHub were struggling even before Thursday, already down more than 20 percent since the start of the year, far more than the 8 percent decline in the S&P 500. Today alone, they were down more than 7 percent at one point. 

Job postings on Uber's career portal show a number of open roles related to the expansion. Postings include everything from a "Restaurant Partnerships Manager" in Atlanta to such international postings as a "General Manager for UberEATS" in Paris.

Nom nom nom.
Before it's here, it's on the Bloomberg Terminal.
LEARN MORE