markets
The Markets Are Backing Central Bankers Into a Corner
By and
Markets `hoping central banks will solve all,' investor says

After years of stimulus, inflation still far from target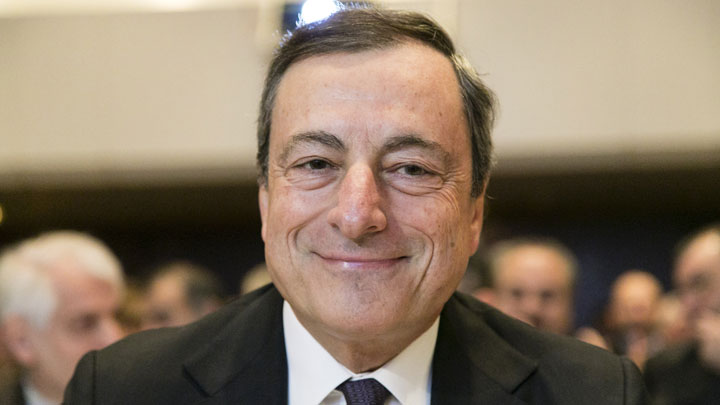 Just when central bankers thought they were headed out, they're getting dragged back in.
Even with their toolkits depleted, monetary policy makers are gearing up yet again to counter the disinflationary fallout from slumping commodities and China's slowdown.
That leaves investors increasingly predicting that the Federal Reserve will slow its campaign to raise interest rates and that the European Central Bank and Bank of Japan will soon deploy more stimulus.
"Markets are sitting there hoping central banks will solve all," says Nikhil Srinivasan, chief investment officer at Italian insurer Generali, whose assets total 480 billion euros ($520 billion).
Calls for action sounded at this week's annual meeting of the World Economic Forum in Davos, Switzerland, where central bankers including Mario Draghi, Haruhiko Kuroda and Raghuram Rajan mingled with the international elite. Global stocks rallied on Friday on speculation that central banks will expand stimulus measures.
Just weeks since Janet Yellen's Fed raised its benchmark rate for the first time in nine years, the notion that the move marked the end of the easy-money era is now being tested.
Dalio's Call
"There's not a country in the world that should not ease its monetary policies," Ray Dalio, founder of hedge fund Bridgewater Associates, said in Davos on Thursday.
Obstacles to sustained global growth are everywhere.
China recorded its slowest annual expansion since 1990 and is letting the yuan fall, while stocks suffered their worst-ever start to a year and oil is the cheapest in more than a decade. The stronger dollar is pinching U.S. exports, along with emerging markets which borrowed in the currency.
Markets Misbehave
All those forces will challenge the ability of central banks to meet the inflation targets they are already undershooting. Oxford Economics Ltd. calculates a sustained slide in equities could alone cut as much as 0.9 percent from global gross domestic product after two years.
While Dalio is an outlier in reckoning the Fed's next move will be toward a resumption of quantitative easing, fellow Davos delegates echoed his call for Yellen to be wary of raising rates. The Fed itself projects four more quarter-point increases this year, while bond traders see one.
"Until you see the reality of this inflation in the system, I'm not sure assuming it's coming is a good assumption," said Gary Cohn, president of Goldman Sachs Group Inc..
Meantime, ECB President Draghi is signaling more central bank support to combat inflation that's barely above zero. Just last month, he disappointed some investors by not easing as much as anticipated.
"We've plenty of instruments," Draghi said on Friday in Davos. "We have the determination, and the willingness and the capacity of the Governing Council to act and deploy these instruments."
ECB Options
Economists at JPMorgan Chase & Co. now predict the ECB will cut its deposit rate to minus 0.4 percent from minus 0.3 percent and increase its monthly purchases by 10 billion euros.
At the Bank of Japan, the stronger yen and tepid wage gains are combining with oil to revive stimulus bets when Kuroda's policy board meets next week. The People's Bank of China has stepped up liquidity injections this month to ease a pre-Chinese New Year cash squeeze and offset capital outflows stemming from its support for the falling yuan.
The Bank of England is also turning more dovish. While Governor Mark Carney said last summer that a decision on raising rates would come into "sharper relief" at the turn of the year, he said this week that "now is not the time."
Many emerging markets are in a vise -- pressured to raise rates to bolster currencies even as growth evaporates. Although Brazil balked at tightening this week, South Africa's central bank will "act with resolve" if price pressures stemming from a weaker rand spread, Governor Lesetja Kganyago said in Davos.
Some say investors are paying the price for too many years of free money.
"Markets have been distorted by QE," Paul Singer, the billionaire founder of $27 billion hedge-fund firm Elliott Management, said in an interview. "So there's a possibility of a kind of tectonic shift if bond and stock market investors lose confidence."
That reflects an analysis that central banks can achieve little more and governments must step up. The International Monetary Fund this week predicted inflation of just 1.1 percent this year in advanced economies, around half the rate most policy makers target.
"Certainly monetary stimulus has run its course," Rajan, governor of the Reserve Bank of India, told Bloomberg Television in Davos.
Which doesn't mean its practitioners won't keep trying.
As Draghi said Thursday, there are "no limits" on what he'll do to meet his mandate.
— With assistance by Elisa Martinuzzi, Malcolm Scott, Jeff Black, and Katia Porzecanski
(
Adds Draghi comment in 14th paragraph.
)
Before it's here, it's on the Bloomberg Terminal.
LEARN MORE