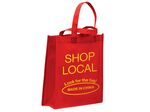 China hasn't been a welcoming place for many foreign technology companies. Google, Facebook, and Twitter are blocked. Microsoft is facing an antimonopoly investigation. Qualcomm, the leading maker of mobile chips, paid the government $975 million to settle an antitrust suit last year and continues to have trouble collecting licensing fees from clients in the country. And things are getting worse.
On Jan. 1 a law took effect that requires telecommunications and Internet companies operating in China to provide law enforcement with technical assistance, including decryption of sensitive user data, in any probe meant "to avert and investigate terrorist activities." The version approved by the legislature's standing committee at the end of December dropped draft provisions that had drawn objections from the White House. Companies won't have to keep local user data at facilities inside China, and they won't need to give the Chinese government back doors into their systems. But U.S. and European trade groups still aren't happy. The European Union Chamber of Commerce in China says the law's vague wording on when and how to help law enforcement decrypt data "leaves concern about how companies will be expected to carry this out."
The law builds on other counterterrorism, national security, and banking and insurance measures enacted last year that either ease regulation on or directly subsidize purchases of homegrown tech. China seeks to purge most outside technology from its banks, military, state-owned enterprises, and key government agencies by 2020, Bloomberg News has reported. The latest rules "continue the Chinese government's ongoing efforts to restrain or force out foreign technology companies," according to a Jan. 11 report by the Information Technology & Innovation Foundation, a Washington think tank whose honorary co-chairs include Republican Senator Orrin Hatch of Utah and Democratic Senator Chris Coons of Delaware.
The Chinese government has been good at protecting some digital turf at home—Baidu owes much of its success to Google's absence, for example—but it's still had to work with a wide range of foreign hardware and software because other countries set the standards. China spent years during the mid-2000s promoting a homegrown standard for 3G wireless communication, which if adopted would have netted local companies regular royalties from adopters abroad. That effort failed, as did similar attempts to create made-in-China standards for radio-frequency-identification chips and streaming TV.
Now, though, companies such as Huawei, ZTE, and Lenovo are among the world's top makers of computing hardware and telecom networking equipment. President Xi Jinping's government can afford to phase out its use of foreign rivals and count on those who remain in the short term to keep cooperating. Given the limited economic growth in the U.S., Europe, and Japan, even China's slowdown and market turmoil don't significantly weaken Xi's hand in dealing with foreign tech companies, says James McGregor, Greater China chairman of consulting firm APCO Worldwide in Shanghai. "China has the muscle to get what it wants," he says. "Companies in China are going to have to more and more play by China's rules."
Surveillance practices in the U.S., most notably those of the National Security Agency, have given China freer rein to tighten regulations under the auspices of national security, says Mark Natkin, managing director of Marbridge Consulting in Beijing. In a Dec. 16 speech at a tech conference in the eastern city of Wuzhen, Xi denounced what he called cybersecurity "double standards." Without mentioning the U.S., he said, "We cannot just have the security of one or some countries while leaving the rest insecure."
Shen Dingli, vice dean of the Institute of International Affairs at Fudan University in Shanghai, says the U.S. was the first to tar foreign companies in the name of national security. Huawei and ZTE have had difficulty selling to U.S. carriers since a 2012 congressional report named them as security risks.
There are limits to how far China can push foreign companies. Chinese consumers remain hungry for iPhones, for example. Perhaps more important, the country's chipmakers aren't ready to replace Intel microprocessors with homemade alternatives, says Li Xigen, a professor at City University of Hong Kong. When it comes to research into semiconductors and other computing building blocks, "there's some kind of bottleneck," Li says. "The gap is big."
For now, U.S. companies in particular are ramping up their partnerships with Chinese cousins to make sure there's a local interest in keeping them there. On Jan. 17, Qualcomm announced a joint venture with southern China's Guizhou province to make server chips. Dell is working with Chinese company Kingsoft to develop cloud servers and has formed an artificial-intelligence lab with the Chinese Academy of Sciences. In recent months, HP, Cisco, and IBM have also announced plans to work more closely with local partners. That all suggests Xi's plan is working, Natkin says: "China is moving full steam ahead."
Cooperation carries no guarantees. In the year since Chinese authorities raided Microsoft offices as part of an investigation into alleged price fixing, Microsoft has worked hard to keep the government happy. It's teamed up with state-owned China Electronics to customize Windows for Chinese users. It's given up on pushing its search engine, Bing, in China, instead making Beijing-based Baidu its Windows search default in the country. When Xi traveled to the U.S. in September to meet with President Obama, he first landed in Seattle to meet with Bill Gates and Chief Executive Officer Satya Nadella at Microsoft's headquarters.
None of that has resolved the company's China troubles. On Jan. 5, China's State Administration for Industry and Commerce announced a further probe of alleged Microsoft violations of antimonopoly law. SAIC said the U.S. company needs to "clarify major problems" that turned up from the earlier investigation, according to Xinhua, the state news agency. "We're serious about complying with China's laws and committed to addressing SAIC's questions and concerns," Microsoft said in a statement. Neither party detailed the concerns in question.
—With Dina Bass
The bottom line: Xi's latest national security rules, plus favorable policies for Chinese companies, are accelerating his push to shop locally by 2020.
Before it's here, it's on the Bloomberg Terminal.
LEARN MORE