Wrong From Day 1, Nikkei Analyst Says It's Like Being Strangled
by and
Japanese stocks tumble into bear market at close on Wednesday

Almost all analysts surveyed by Nikkei didn't foresee the drop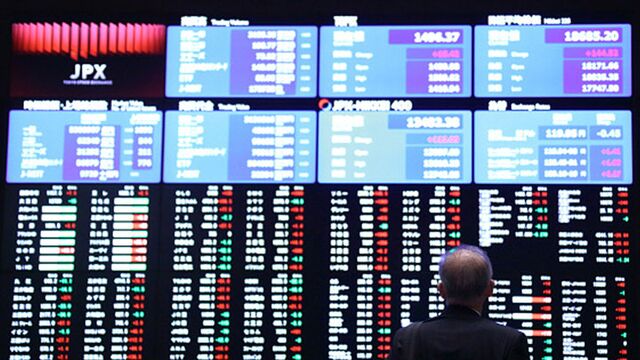 Masayuki Otani wasn't too happy as he discussed how Japanese stocks are doing in 2016.
"It's like slowly being strangled by silk string," said the chief market strategist at Securities Japan Inc. in Tokyo as plunging oil prices and anxiety over the Chinese economy sent Japanese shares into a bear market. Stretches of declines like this "are not something you see all that often."
Otani wasn't alone in being taken by surprise. He's one of 29 professional forecasters in a Nikkei Veritas survey, or 44 percent of the total, whose guess for the equity measure's low in 2016 was breached on the very first day. By Wednesday's close, 88 percent of the 66 analysts polled by the weekly financial newspaper had seen their predicted lows prove too optimistic.
"Oil and the Chinese economic slowdown were two reasons to sell that we'd already seen last year, so I thought there was little chance the market would crumble on them," said Otani. "I thought the Chinese economy would right itself, the U.S. economy would be OK, and oil prices would stay above $30 a barrel. I thought the fundamentals would be different from the summer. I was wrong."

Both the benchmark Topix index and the Nikkei 225 plunged into bear markets on Wednesday, falling at least 20 percent from recent highs as oil tumbled past $28 a barrel. Markets could "drown in oversupply," sending prices even lower as demand growth slows and Iran boosts exports, the International Energy Agency said. The Nikkei 225 sank 3.7 percent on Wednesday to close at 16,416.19, about 8.4 percent below the average forecast for a 2016 low of 17,919.7, while the yen jumped as much as 1.4 percent against the dollar.
An early rebound faded on Thursday, with the Topix closing 2.8 percent lower. The Nikkei 225 dropped 2.4 percent after gaining as much as 1.9 percent.
Strategists were caught off guard this year as Japanese shares held up better than most major stock indexes in 2015, with the Topix index climbing 9.9 percent for a fourth straight annual advance. The nation's equities have benefited from a lower yen that has brought record corporate profits.
"I did have a feeling that we might be off to a rocky start this year" after Saudi Arabia and Iran severed diplomatic ties, said Otani. Still, he says he thought the aftermath of that would last for two or three days at most. "Things kept falling, and everyone started panicking."
While most were wrong-footed by the severity of the declines, one analyst was taking it as a vindication of sorts. Makoto Kikuchi, the permabear who runs Myojo Asset Management Co. in Tokyo, has been warning that this kind of a drop was coming. In fact, he expects much worse. His 2016 year-end forecast for the Nikkei 225 in a Bloomberg survey in December was 9,000. In other words, he's betting the equity measure has a further 44 percent to slide.
Portending Doom
He's been predicting a decline since at least the early days of Prime Minister Shinzo Abe's second term, which started at the end of 2012. Kikuchi got it wrong as the Nikkei 225 more than doubled to reach a high in June. Even after the August rout triggered by China's currency devaluation and the turmoil this year, the measure was still up 63 percent through Wednesday.
"Many thought that corporate earnings were doing well, and even if Chinese stocks were volatile Japanese profits would continue to be positive until next fiscal year," Kikuchi said on the reason why many analysts got their predictions for the Nikkei's low so wrong. "Japan can't remain indifferent to the death spiral of China, which has led to a weakening of developing economies and caused commodity prices to plunge."
China, Commodities
The Shanghai Composite Index has tumbled 19 percent this year, with only stock gauges in Saudi Arabia and Argentina posting larger declines among 93 primary equity indexes tracked by Bloomberg. China's economy slowed in December, capping the weakest quarter of growth since the 2009 global recession, data showed this week. The Bloomberg Commodity Index has slipped to the lowest level since its inception in 1991.
For Soichiro Monji of Daiwa SB Investments Ltd., whose prediction of a 2016 low of 20,000 for the Nikkei 225 was also breached on the first trading day, there's no reason to join Kikuchi's camp just yet.
"Right now, we're in a state of panic," the chief strategist at the Tokyo-based asset manager said. "We're being thrown left and right by trading that's not based on fundamentals. It's not like we have any new negative factors. This plunge without fundamental reasons is too much."
Before it's here, it's on the Bloomberg Terminal.
LEARN MORE