Video
Why China Can't Keep a Stock Rally Going
The slowdown in economic growth is raising hopes of further government stimulus. But will it work?
by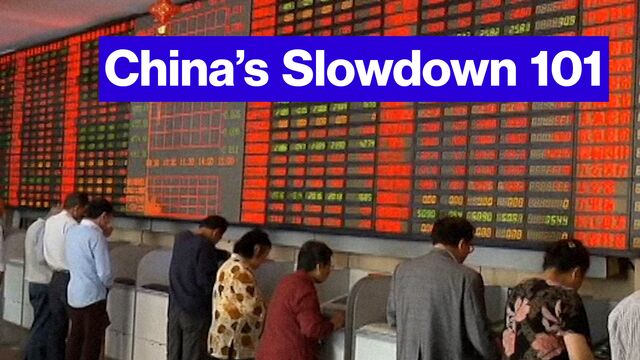 China's latest stock market rally lasted precisely two days. Prices tumbled again on Wednesday, with the Shanghai Shenzhen CSI 300 Index giving back half the gains it made in an impressive rally the previous day. In Hong Kong, China stocks fell to their lowest since the financial crisis.
For investors, the question is what it will take to end a bear market that has seen prices plunge 15 percent or more so far in January. When China reported the slowest economic growth in almost seven years on Tuesday, stocks responded by jumping the most in two months. The rationale was that the economic situation in China is so bad that the government would have no choice but come to the rescue.
"There's a possibility of a cut in banks' reserve-requirement ratios," Shen Zhengyang, a Shanghai-based analyst at Northeast Securities, told Bloomberg. Lower reserve requirements allow banks to lend out a bigger share of deposits, presumably fueling growth. Trouble is, it's not just the supply of loans that's weak in China these days. It's the demand for them.
Faith in a bailout seemed to dim on Wednesday, as key indexes fell 1 percent or more. The question is whether the government has any tricks left up its sleeve to reignite growth in output and profits, not just give the markets a little oxygen. The bang for the buck from lending is declining: For each $1 in credit expansion, China added the equivalent of 27 cents of gross domestic product last year, the least since 2009, according to data compiled by Bloomberg from government figures released on Tuesday. As recently as 2011, each $1 generated 59 cents.
 "The recent China-induced financial volatility is the result of a nasty cocktail of major structural problems, slowing growth, and inept policies," Nariman Behravesh, chief economist at researcher IHS said  on the eve of the World Economic Forum in Davos, Switzerland.
Before it's here, it's on the Bloomberg Terminal.
LEARN MORE