Washington, Mid-Atlantic Threatened With Worst of Weekend Storm
by
Forecast for New York unclear; New England may see flakes

Storm is now over U.S. West heading East for Friday arrival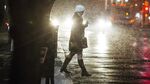 Washington and the mid-Atlantic coast are in line to get the worst from a weekend nor'easter set to grow off the East Coast starting Friday, while the outlooks for New York and Philadelphia aren't as clear.
The heaviest snows from the system, currently over the western U.S., are forecast to fall from Kentucky to Maryland, and clip parts of Washington and Baltimore, said Rich Otto, a meteorologist at the U.S. Weather Prediction Center in College Park, Maryland. It's set to be the region's first major winter storm of the year, with accumulations of a foot (30 centimeters) or more possible from North Carolina to southern Pennsylvania.
"There should be a pretty good swath of snow in the mid-Atlantic," Otto said. "The parts that are a little more tricky are Philadelphia and New York City."
The large East Coast cities are lagging behind normal snowfall totals. New York has only received 0.4 inch this season, or 8.6 inches fewer than normal, the National Weather Service said. Philadelphia, Washington and Baltimore are all inches behind an average season and Boston is more than a foot below the 30-year average.
NYC Outlook
Forecast models say New York and Philadelphia could end up getting sleet and freezing rain for part of the storm, which would keep snowfall totals down, Otto said. By late Friday night, there is a 60 percent chance of snow in New York.
The chances of snow persist through Saturday.
"A couple of models spare New York City some significant snow," Otto said.
While southern New England gets grazed by the storm, the bulk of the storm will probably hit farther south, Otto said. This is different from what usually happens with systems such as these.
The storms typically are just getting started in the South, so it's Washington that just gets a few inches while the cities to the north see deeper accumulations, Otto said. The forecast track of this storm will take it away from New England, reversing that trend.
More information can be gathered on the storm as it moves east, which will improve forecasts, he said. 
Before it's here, it's on the Bloomberg Terminal.
LEARN MORE