UBS's Weber Says China Has 'Plenty Ammunition Left' Amid Turmoil
by
Weber says China is like a tanker that is `turning slowly'

China has `huge potential' over medium- long-term, Weber says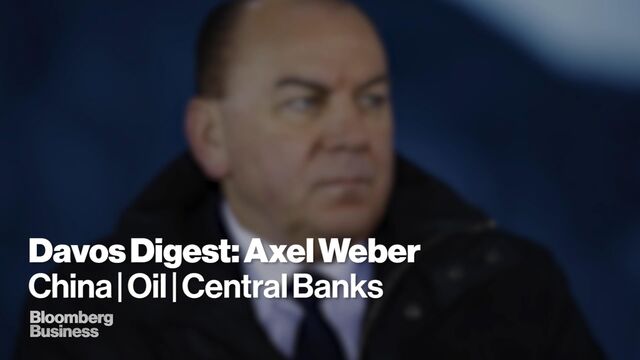 UBS Group AG Chairman Axel Weber said China's authorities still have "plenty of ammunition left" to stabilize the economy, signaling optimism that the country will become stronger after the turmoil roiling global markets.
China was "a bit late to the game" and some of its measures to stabilize markets were "a bit improvised," Weber said in an interview with Bloomberg Television's Francine Lacqua and Hans Nichols at the World Economic Forum in Davos, Switzerland. The country is like "a tanker that needs to turn and it's turning slowly. But medium to long term, I'm quite positive about China," he said.

Financial firms have been rocked by turbulence in Chinese markets, with plunging equity markets prompting authorities to intervene amid a deepening economic slowdown. Asia's largest economy has also been hurt by capital outflows and currency volatility as some investors try to profit from gaps between the onshore and offshore yuan rates.
At UBS, Chief Executive Officer Sergio Ermotti said in an interview earlier this month that China remains a "great opportunity," with the Swiss lender planning to double its staff in the country in five years. Weber echoed the CEO's remarks, saying that there is "huge potential" over the medium- to long-term.

China's economy slowed in December, capping the weakest quarter of expansion since the 2009 global recession, as policy makers struggle to finesse a transition to consumer-led expansion.
'Downward Spiral'
"They're rebalancing growth from externally driven, manufacturing-led growth to more domestic growth," Weber said. "Service based growth is much more job creative and income creative than manufacturing based growth. I think they're doing the right thing."
Weber said that he doesn't expect to see a "downward spiral" in the global economy, even with growth cooling.
"We're going through a correction and clearly global growth has come down," he said. "The world is reverting to the old order -- the U.S. is leading the cyclical recovery, industrial countries are doing better than emerging markets and emerging markets are seeing the reversal of capital flows. It's a normal correction, it will last for some more time."
Weber, who used to sit on the European Central Bank's governing council, also said that he doesn't see a "bottoming out" of oil prices anytime soon. The ECB "might do little baby steps in reducing interest rates further" in a "very adverse environment," Weber said, adding that it's not the "main scenario."
"We face a policy-credibility issue nowadays in the global economy because the guidance given by central banks first and foremost isn't taken at par value by markets and that's where markets get very jittery and nervous," Weber said. "You have to be very clear and very determined in your guidance."
Before it's here, it's on the Bloomberg Terminal.
LEARN MORE