Treasuries Surge as Global Rout Pushes Yields to Three-Month Low
by
Gap between 2-year, 10-year yields falls to eight-year low

`You can't try to dance through this minefield,' FTN's Vogel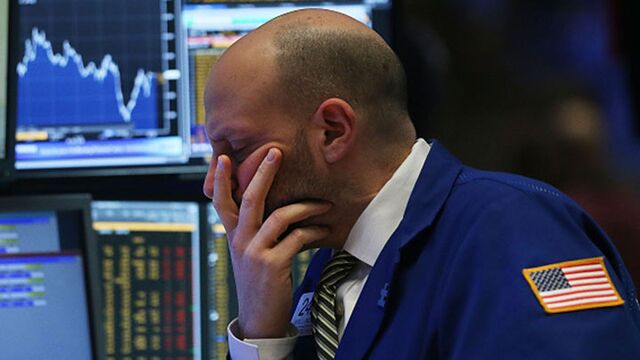 Treasuries rallied, pushing 10-year yields to their lowest since October, with investors seeking the safety of sovereign debt as the collapse of oil prices sparked anxiety in markets from stocks to inflation derivatives.
Government debt rose as the commodity-price plunge fueled U.S. stock-market losses, and a gauge of global shares fell to the brink of a bear market. Traders pared bets on the timing and pace of Federal Reserve interest-rate increases this year as a bond-market gauge of inflation expectations, known as the 10-year break-even rate, slid to the lowest level since 2009.
"There's been this big concern about a stronger dollar, weaker commodity prices, and there's real concern about recession," said Peter Tchir, head of macro strategy at Brean Capital LLC. "That's really been the driver."
The benchmark 10-year note yield fell by the most in more than a month, declining seven basis points, or 0.07 percentage point, to 1.98 percent at 5 p.m. New York time. It fell as low as 1.94 percent. The 2.25 percent security due in November 2025 rose 21/32, or $6.56 per $1,000 face amount, to 102 12/32, according to Bloomberg Bond Trader data.
Bull Flattener
"You can't try to dance through this minefield, you just have to stay on the sidelines in Treasuries," said Jim Vogel, head of interest-rate strategy at FTN Financial in Memphis, Tennessee. "There are dents in the U.S. economy that are getting harder to paper over."
As stock-market bulls got steamrolled, the Treasury market extended a "bull flattening" move, as long-term yields fell more than short-term yields. The gap between yields on two-year and 10-year U.S. debt shrank to about 1.16 percentage point, the narrowest on a closing basis since January 2008.

"It shows the level of pessimism in the medium term, not just the short term," said David Keeble, New York-based head of fixed-income strategy in at Credit Agricole SA. "It suggests we've got a secular stagnation trade."
Yields on short-term notes, which are more sensitive to Fed policy, also fell as traders bet on a slower pace of Fed interest-rate increases. Traders see about a 23 percent chance the Fed will raise rates at or before its March meeting. That's down from 28 percent on Tuesday and 51 percent at the end of 2015.
Even so, short-term notes underperformed longer-term peers, as traders bet that the Fed's benchmark rate will rise to 0.67 percent in a year's time, which would imply about one increase. The median estimate from officials at the Fed's December meeting said the fed funds rate should rise to 1.375 percent this year, which would imply four increases.
Consumer Prices
Data have been falling short of forecasts this year, and the Citigroup U.S. Economic Surprise Index has been negative since November. Treasuries held gains after a report showed the cost of living in the U.S. dropped in December from the month before, led by a slump in commodities. Excluding food and fuel, the so-called core index rose 0.1 percent, less than forecast and the smallest gain in four months.
When consumer prices rise, it hurts the value of long-term U.S. debt, so long-term Treasuries tend to rally when the market's outlook for inflation dims. The Fed's preferred inflation gauge hasn't hit the central bank's target of 2 percent since 2012.
The real yield on the 10-year Treasury note, or the note's yield when yearly inflation is taken out, was about 1.28 percent, down from 1.79 percent in December.
Before it's here, it's on the Bloomberg Terminal.
LEARN MORE