Photographer: Mario Tama/Getty Images
These Favorite Hedge Fund Holdings Are Among 2016's Worst Stocks
by and
Platform Specialty leads worst-performing hedge fund hotels

Majority of worst performers at least 10% owned by hedge funds
As U.S. stocks extend their losses, some of the biggest decliners are companies popular with hedge funds.
Of the year's 100 worst-performing companies larger than $1 billion as of Jan. 19, more than half are at least 10 percent owned by hedge funds, and 17 are at least 25 percent owned by such funds. Below we highlight some of the biggest losers in that group. One caveat: most of the funds' holdings are reported as of Sept. 30 and may have changed since.

Shares of Miami-based chemical maker Platform Specialty Products Corp. have plunged 40 percent since the start of 2016. The maker of specialty chemicals, which is 40 percent owned by hedge funds, turned to the high-yield debt markets to issue $1.6 billion of U.S. dollar bonds and 350 million euros ($381 million) of bonds to help fund its acquisitions of U.K.-based chemical company Alent Plc and agriculture chemicals maker Arysta LifeScience Ltd.
Biggest U.S. hedge fund holders: Pershing Square Capital Management, Corvex Management, Blue Ridge Capital, Och-Ziff Capital Management Group LLC

Shares of Williams Cos., a pipeline company that's 26 percent owned by hedge funds, have also lost 40 percent this year. As Williams gets dragged lower by falling prices of oil and natural gas, analysts are increasingly doubtful that another pipeline owner, Energy Transfer Equity LP, will be able to go through with a deal to purchase Williams early this year for $38 billion.
Biggest U.S. hedge fund holders: Lone Pine Capital, Corvex Management, Soroban Capital Partners

Tumbling energy prices have also hit WPX Energy Inc., an energy exploration and production company based in Tulsa, Oklahoma. The shares plummeted 38 percent so far this year after falling 51 percent in 2015. The stock dropped as much as 34 percent earlier on Wednesday after Goldman Sachs Group Inc. downgraded the company, which is 25 percent owned by hedge funds, to underperform.
Biggest U.S. hedge fund holders: Carlson Capital, Millennium Management and Alyeska Investment Group

Shares of Hertz Global Holdings Inc., the U.S.'s largest publicly traded car-rental company plunged 36 percent so far this month. John Tague, the company's chief executive officer since November 2014, is trying to revive the brand after the company struggled to clear up accounting issues. He called 2015 a transition year for him to tighten operations of the company, which is 31 percent owned by hedge funds.
Biggest U.S. hedge fund holders: Icahn Associates Holding, Glenview Capital Management, Jana Partners, Fir Tree, Iridian Asset Management.

Shares in real estate investment trust Northstar Realty Finance Corp., another hedge fund favorite with a 38 percent ownership, tumbled 34 percent so far this year. The REIT, which has been using borrowed money to buy assets over the last year and a half, has a 20-year non-terminable agreement with its external manager that allows executives to get paid the same amount no matter how the company does.
Biggest U.S. hedge fund holders: Steadfast Capital Management, Maverick Capital, Luxor Capital Group
Watch Next: Hedge Funds Are Attempting to Buy the Dip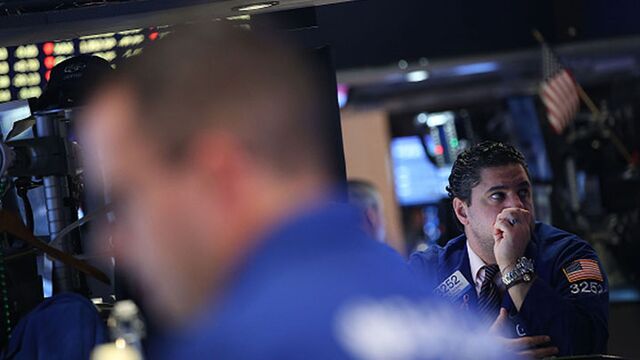 Before it's here, it's on the Bloomberg Terminal.
LEARN MORE