The Wharton Grad Sensing a Fortune in the World's Most Toxic Air
by and
Entrepreneur sees $30 million revenue in masks, purifiers

Sales of nebulizers to ease respiratory spasms are surging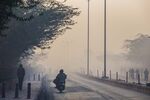 Murky air means money for New Delhi businessman Jai Dhar Gupta.
The 43-year-old Wharton graduate began selling pollution masks last year in India, home to some of the planet's most toxic cities. Gupta reckons he'll sell 70,000 from January to March -- as much as the whole of 2015 -- and may buy an equity stake in the U.S. company that owns the rights to the products.
"India is going to be the biggest market for the masks," he said in a Jan. 11 interview, adding he plans to manufacture and export them from India. Gupta wants to expand into products such as in-car air purifiers and is targeting $30 million in total sales for his company, Nirvana India Pvt., by March 2017.
From masks to purifiers and even nebulizers that ease lung spasms, India is seeing a spurt in purchases of products designed to deliver a basic human right: the ability to breathe. Sales of filters that trap tiny, harmful airborne particles surged in 2015 on top online retailers Flipkart and Snapdeal.com. Nebulizer makers expect annual growth of as much as 30 percent.
Pollution readings in New Delhi over winter rivaled those in Beijing, the poster child for dirty air. Measurements by Bloomberg News sometimes reached as much as 45 times the World Health Organization's safe limit for PM2.5 particles, which can penetrate deep into the lungs and enter the bloodstream. The U.S. embassy classified the air on Thursday morning as very unhealthy.
Fighting Haze
The national capital in January resorted to major traffic restrictions to curb exhaust fumes and the federal government accelerated the timeline for stricter emission rules. The Supreme Court in December banned the registration of larger diesel vehicles in the city.
The World Bank in 2013 estimated the annual cost of environmental degradation in India at $80 billion, signaling the overall blow for Asia's No. 3 economy from pollution. Smoke-stack power plants and fires lit by the poor for domestic use add to the gray haze.
India's top online retailer Flipkart said sales of purifiers such as those made by Amsterdam-based Koninklijke Philips N.V. and Japan's Sharp Corp. surged 400 percent from July through December last year. Snapdeal.com, the next biggest e-commerce website, said sales of pollution masks in 2015 doubled.

The masks sold by Gupta from New Delhi-based Nirvana India claim to offer a blend of fashionable design as well as protection, unlike more industrial-looking competitors. He plans to manufacture them from a factory in India's Madhya Pradesh state.
Japan's Omron Corp. sold 200,000 nebulizers in India last year and expects as much as 30 percent compound annual growth over the next three to five years, according to Hisao Masuda, the managing director of its health-care unit in India.
India's capital was the world's most polluted city measured by PM2.5, with an annual average of 153 micrograms per cubic meter, according to a 2014 World Health Organization database. The top four most polluted cities were in India.
Local smartphone apps, such as the Sequoia Capital-backed Helpchat, have begun integrating air quality data into their programs to help people identify the most polluted areas.
In New Delhi, pediatrician Vikas Bhat said one-third of his patients have respiratory problems and that such ailments have risen sharply in the past five years. Air pollution ends up prolonging infections and makes patients harder to treat, he said, forcing him to recommend draconian steps.
"Finally, I start advising patients to go to the hills," Bhat said.
Before it's here, it's on the Bloomberg Terminal.
LEARN MORE