The Most Interesting Things Said at Davos Today
Donald Trump, lower oil, and security risks.
by and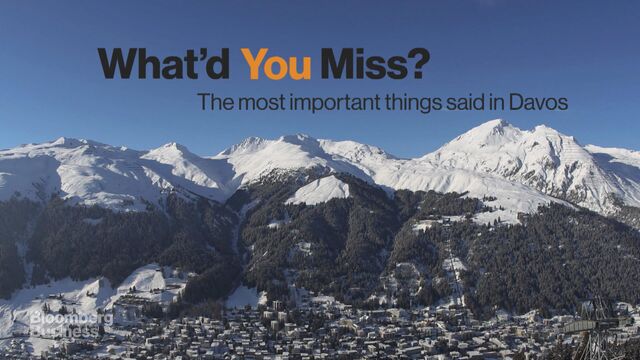 Day one of the World Economic Forum's annual meeting in Davos is wrapping up, so it's time to declare the most interesting things that people talked about today.
First up is Donald Trump. If Trump were running in the Davos primary, he certainly wouldn't win.
CEOs expressed concern about the rising Trump phenomenon. Larry Fink, chairman of Blackrock Financial Management, warned: "For those constantly focused on reelection and nothing more, we need a revolution. ... Unfortunately, now the revolution may be Donald Trump."
Meanwhile, with markets spiraling lower, there's plenty of interest in oil. In the five stages of oil market grief, CEOs are getting closer to the acceptance stage, as they acknowledge that there may not be a quick bounce-back on the horizon, but that prices could stay low for a long, long time.
The good news is that there's still a glass half-full attitude among attendees. Hope remains that the oil crash could spur pent-up demand (a notion that was popular a year ago but that feels increasingly quaint). In general, the mood is not as negative as markets may have you believe.
And finally, there's security.
Security risks, be they geopolitical or of the cyber variety, dominated the conversation.
---

Take a look behind the curtain as the world's most influential business, political and cultural leaders meet in Davos
---
Before it's here, it's on the Bloomberg Terminal.
LEARN MORE