Poloz Hands Baton to Trudeau on Promise of Deficit Spending
by
Bank of Canada stands pat on rates despite crude-price plunge

Governor offers rare glimpse of central-bank deliberations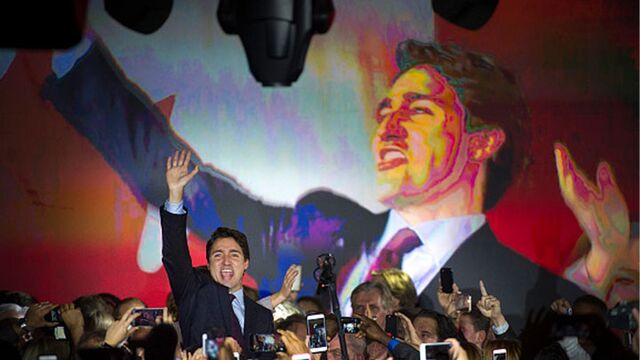 When Bank of Canada policy makers began their deliberations last week ahead of Wednesday's interest-rate announcement, they were leaning toward a cut as oil prices plunged. Instead they held off and shifted the burden of stimulus to Prime Minister Justin Trudeau.
Opening a window into the bank's inner workings, Governor Stephen Poloz acknowledged the bias while saying an economic stimulus package pledged by Trudeau gave the bank reason to hold off on a cut. The sharp plunge in the currency, which is bolstering non-resource exports and could fuel inflation, was also a factor, he told reporters Wednesday.
"He's giving you a glimpse into why they didn't cut," said David Doyle, a Toronto-based Macquarie Group Ltd. analyst who tops Bloomberg's currency forecaster rankings. "The reasons are the potential for fiscal stimulus, the decline in the dollar having some impact, and the effect on inflation from the dollar. "
Policy makers are struggling with the collapse of commodity prices rippling through Canada's economy, with a chorus of economists and investors warning historically low rates and a sharp depreciation of the currency is hurting the country. Many are calling on governments to do more of the heavy lifting by running larger stimulus packages.
The governor gave credence to those calls at a press conference after the rate decision. "Suffice it to say that were we to incorporate a degree of new fiscal stimulus in this projection today the output gap would close sooner than in our base case, but how much sooner would depend on the scale and nature of the fiscal measures," Poloz said.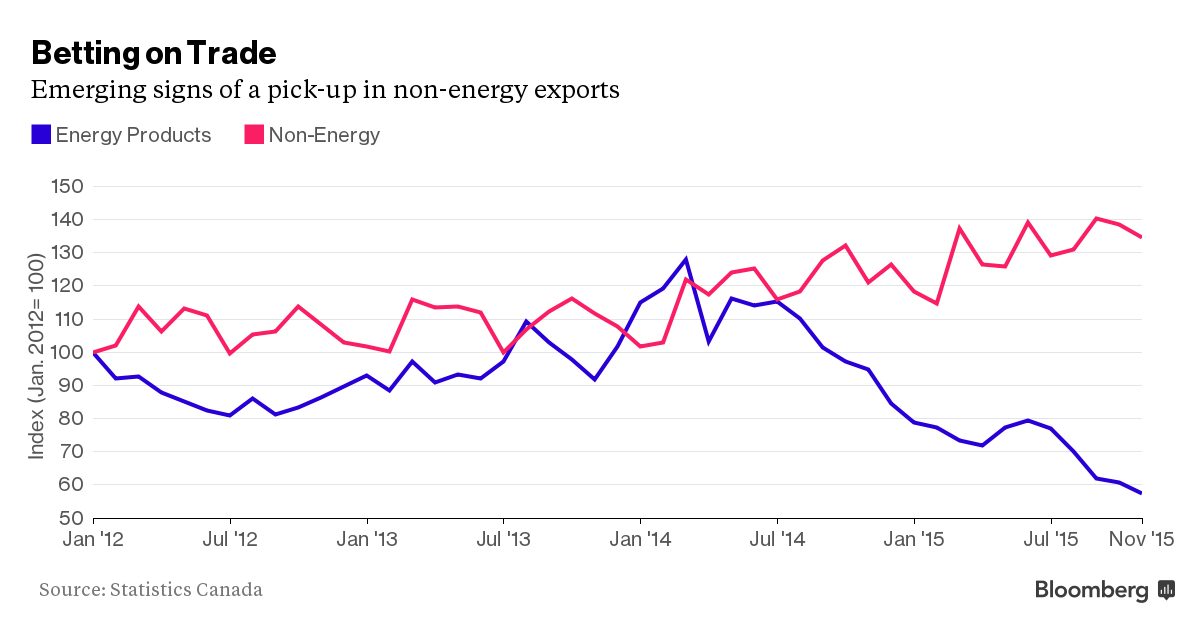 Gross domestic product stalled in the fourth quarter as crude tumbled, delaying the economy's return to full output by about six months to the end next year, policy makers said Wednesday. The central bank also cut its 2016 growth forecast to 1.4 percent from an October prediction of 2 percent.
Fiscal Plans
That forecast comes with an "asterisk" because it doesn't include the potential boost from the federal government's proposed deficit spending plan, Poloz told reporters, adding the central bank can't "guess" how much stimulus is coming and will have to wait for Finance Minister Bill Morneau's budget, expected by April. Trudeau has already backed off a campaign pledge to cap deficit spending at C$10 billion ($6.9 billion) annually, and former Bank of Canada Governor David Dodge recommended this week federal and provincial governments run combined deficits of as much as C$40 billion a year.
The message of "over to you, Mr. Prime Minister" is a "key takeaway" of the bank's decision, said Derek Holt, Scotiabank's vice-president of economics in Toronto.
Poloz declined to make specific recommendations on what kind of spending and tax measures should be in a budget. The boost to economic growth depends on when the money starts moving and whether projects such as roads and bridges provide a lasting improvement to productivity, policy makers have said.
"Our convention is not to guess about these things, but to incorporate actual announcements," Poloz said. The next rate decision on March 9 may come before Trudeau presents a budget, based on delivery dates in recent years.
Stimulus Impact
The governor indicated Wednesday that policy makers changed their minds during the bank's deliberations, for which minutes aren't published. In addition to the forthcoming fiscal stimulus, the sharp decline in the currency was also discussed before they opted to hold the benchmark overnight rate at 0.5 percent, he said.
Poloz, his senior deputy and four deputy governors begin deliberations on the Thursday afternoon before rate decisions are announced, according to a backgrounder on the central bank's website. The governor and his deputies continue talks through Tuesday and the press release is often finalized by the end of that day.
Despite the faith the central bank has tacitly put in the government, prolonged low oil prices may force Poloz to act again, according to Ben Homsy, a fixed-income analyst at Leith Wheeler Investment Counsel Ltd., which manages C$16 billion in assets.
"You would need to have a surprisingly stimulative budget" to ward off another rate cut, he said by phone from Vancouver. As for the dollar, "it's been 18 months since the Canadian dollar started weakening and you really haven't seen a significant improvement in non-energy exports."
Before it's here, it's on the Bloomberg Terminal.
LEARN MORE