Oil's Plunge Drags Gazprom's Gas Price in Europe Down by 37%
by and
Gazprom sees its first-quarter price dropping to $180/kcm

Russia's gas volumes in Europe so far seen stable in 2016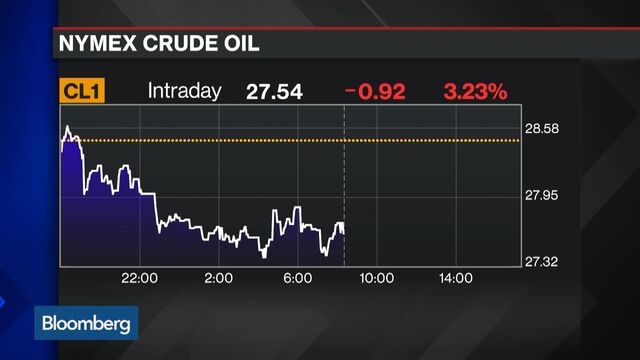 Russia's natural gas prices in Europe will probably slump 37 percent this quarter to levels not seen since 2005 because of the rout in oil.
The first-quarter price may drop to about $180 per 1,000 cubic meters ($5.10 per 1,000 cubic feet) compared with $284 a year ago, Gazprom PJSC chairman Viktor Zubkov said Wednesday at a conference in Vienna. The state-controlled exporter meets about 30 percent of the European Union's gas demand.
Russia is still committed to oil-linked pricing in its long-term gas contracts even as crude hovers near its lowest since 2003, according to Zubkov. Gazprom in October forecast that its prices in Europe may drop to about $200 per 1,000 cubic meter in 2016, the lowest level in 11 years. That estimate was based on crude averaging $50 a barrel set in the nation's budget. So far this year, Brent has averaged $32 a barrel.
Gas markets need "stable" trading tools, Zubkov said. "It's extremely dangerous to be guided by here-and-now profits in such a forward-looking industry as gas," he said.

The government in Moscow is now considering changes to the budget, possibly
using $40, according to the Finance Ministry. Gazprom gas prices in Europe may
then average $177 a thousand cubic meters in 2016, the country's Economy Ministry said. That estimate would mean the company's European price would be the lowest in 12 years, with export revenue shrinking by more than a quarter in dollar terms to about $28 billion, Bloomberg calculations based on Gazprom data show.
Gazprom's press office declined to comment on its 2016 price estimates.
GAZPROM SALES OUTSIDE EX-USSR
Price
$/1,000 m3
Volume
billion m3
Revenue
$b
Revenue
t rubles
2005
192
147
28.2
0.8
...
...
...
...
...
2012
402
138.8
55.8
1.7
2013
385
161.5
62.2
2.0
2014
349
146.6
51.2
1.9
2015e
238
159.4
37.9
2.3
SOURCES: GAZPROM, BANK OF RUSSIA, CALCULATIONS
Gazprom's net debt may double over the next three to four years on shrinking prices, Sberbank CIB analysts in Moscow said in a note on Monday. Falling income may force the company to backtrack on its promise to keep dividends stable, they said.
Zubkov said Wednesday that Gazprom confirms its dividend target at last year's level of 7.2 rubles per share, Interfax news service reported. The company confirmed the statement.
Gazprom shares declined 1.1 percent by 6:22 p.m. Wednesday in Moscow while the benchmark Micex index lost 1.3 percent as crude fell.
Although gas supplies to Europe will depend on the market, the company so far sees volumes stable at about 160 billion cubic meters this year, Zubkov said. Gazprom sees increasing demand for imported fuel in the region given the drop in production in the European Union, Elena Burmistrova, the head of Gazprom export arm said at the same event.
"Europe will need a great deal of natural gas in the coming decades, and there will be room enough for all in the gas market," Burmistrova said.
Before it's here, it's on the Bloomberg Terminal.
LEARN MORE