Moelis Says Energy Buyers Regretting Takeovers Amid Oil Plunge
by
Oil slump has made it hard for energy dealmaking, Moelis says

Companies with junk ratings will have hard time with financing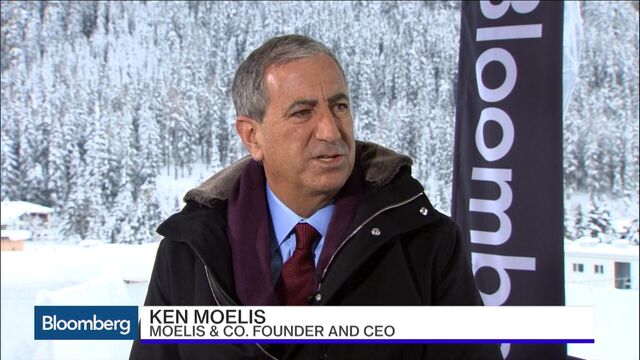 Ken Moelis, a veteran dealmaker who founded a New York-based investment bank, said plunging fuel prices have made it difficult for companies to know how long to wait before making takeover offers.
"Most people who've entered into transactions, I think, are regretting, if they're the buyer at least, the time in which they did it," Moelis said Wednesday in a television interview with Bloomberg's Erik Schatzker from Davos, Switzerland. "When oil changes by 5 to 6 percent a night, it's very hard."

Policy makers and corporate executives have been focusing on the commodities rout as they gather at the Davos World Economic Forum with slumping crude and coal prices forcing energy companies to go bust or restructure. Moelis & Co. is among Wall Street firms that have added talent to deal with dislocation in the energy industry, and has advised Cliffs Natural Resources Inc. on asset sales. While there are many companies that feel pressure to make deals, the challenge is finding would-be buyers with the resources and willingness to act, he said.
"Can you really come to the table and decide to sell and do a transaction at these prices?" he asked. "It's very difficult."
Moelis said financing will be harder to arrange for energy companies and in the retail industry, especially borrowers rated below investment grade.
"If you're in the junk markets, and you're in the lower end of the junk markets, very difficult, and there's definitely a pricing reset going on," Moelis said. "If you're in certain industries, impossible."
Before it's here, it's on the Bloomberg Terminal.
LEARN MORE