Italy Must Start Reducing Debt-to-GDP Ratio, EU's Moscovici Says
by and
EU commissioner says figure `far away from what is admittable'

Comments follow last week's discord between Renzi and Juncker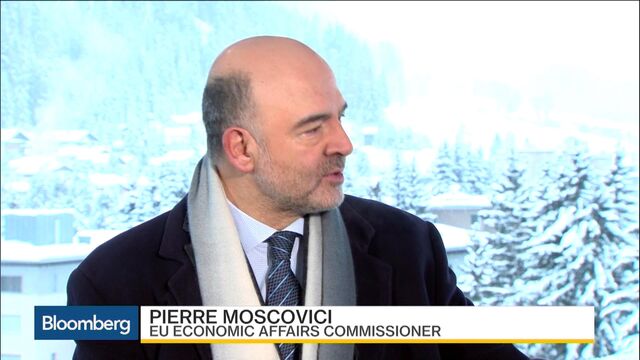 Italy must start cutting its government-debt ratio as it seeks flexibility under the European Union's fiscal rules, EU Economic Affairs Commissioner Pierre Moscovici said.
"We are far away from what is admittable" in terms of debt as a percentage of economic output, Moscovici said in a Bloomberg Television interview at the World Economic Forum in Davos, Switzerland. "Yes, the Italian government is making reforms --- that's positive. Yes, it's reducing deficits; it also can use flexibility, but overall, it is necessary that in Italy, too, the debt-to-GDP ratio diminishes," he said.
Italian Prime Minister Matteo Renzi has committed to reduce Italy's debt to 131.4 percent of gross domestic product this year from 132.8 percent in 2015. That would be the first reduction in the debt ratio since 2007. The government said it will meet the goal through the sale of stakes in the railroads and air-traffic controller.
At the same time, Renzi is seeking a wider margin on deficit-reduction goals in order to fund tax cuts of 35 billion euros ($38 billion) over three years aimed at boosting the economy. He has asked for the fiscal-rule flexibility under clauses on reform and investment.
The requests have put a strain on relations between Italy and the European Commission, with Jean-Claude Juncker, president of the EU executive, saying last week that relations were "not in tip-top shape" and questioning criticism of the EU by Renzi.
Moscovici said the commission is discussing the fiscal issues with Renzi.
Before it's here, it's on the Bloomberg Terminal.
LEARN MORE