Iron Ore Mining Giants Cool Supply Growth as Next Wave Builds
by and
Output expansions in Australia to Brazil to weigh on prices

Iron ore's price pressure may continue through 2017, CRU says
The surge in output from Australia's two biggest iron ore producers is slowing as they complete $24 billion in expansions wagered on increasing demand from China's mills. As steel output declines in China, the next wave of supply from miners who've made the same bet is likely to keep prices under pressure.
While Rio Tinto Group and BHP Billiton Ltd., the world's No. 2 and No. 3 exporters, predict supply growth will slow this year, iron ore's collapse may not reach its nadir until 2017 as material continues to be added from new operations in Brazil and Australia, according to CRU Group.
The consultancy estimates average benchmark iron ore will remain broadly flat over the next two years at around $40 a metric ton. The steelmaking ingredient trades at less than a quarter of its 2011 peak, and last month touched a new low of $38.30 in daily prices dating to 2009. China's steel mills, which account for half of global supply, last year posted their first annual decline in output since at least 1991.
Rio and BHP "are still adding tons to the market, just at a slower pace," Dang Man, an analyst at Maike Futures Co. in Xi'an, said by phone. "I don't see that supporting prices especially since demand is very poor. We think a drop to between $30 and $35 is very likely this year." Citigroup Inc. said last week it sees a strong possibility of iron ore falling below $30 a ton.
Rising Supply
As much as 266 million tons of supply is scheduled to enter the market over the next three years before additions are curbed from 2019, according to Bloomberg Intelligence. Gina Rinehart's Roy Hill mine in Western Australia, which began exporting last month, is ramping up production to 55 million tons a year, while Brazil's Vale SA expects its S11D project -- which will add 90 million tons a year -- commencing in the second half. Vale is the world's top exporter.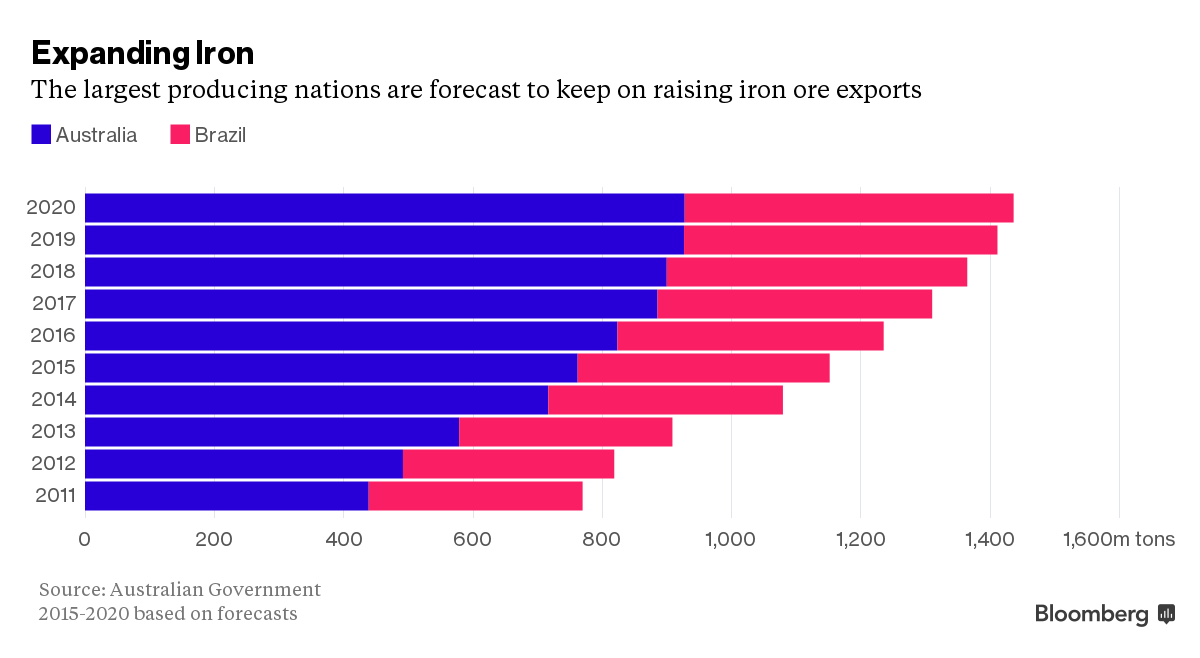 Cargoes from Australia will probably climb to 868 million tons in 2016 from 767 million tons last year, according to government figures in December. The increase underlines the strategy by the biggest exporters of continuing to add production to raise market share in China and squeeze out costlier rivals.
Rio sees output rising 7 percent to 350 million tons in 2016, slower than the 11 percent increase in 2015, the company said Tuesday. BHP on Wednesday cut its full-year iron ore guidance following the deadly dam breach at its Samarco joint venture with Vale in Brazil. It now forecasts production will grow by 1.7 percent in the 12 months through June 30, compared to a 14 percent jump a year earlier.
The increases mean supply outside of China needs to fall by about 46 million tons to balance the export market in 2016, according to CRU Group's senior consultant Adrian Doyle. That's proving more difficult than anticipated.
"We've underestimated the resilience of some of these companies, and a lot of them are only iron ore producers and are not diversified, so you can understand that their desire to stay in business is strong," Doyle said by phone from Sydney.
Rio Chief Executive Officer Sam Walsh last month described higher-cost rivals that had been expected to quit the market as "hanging on by their fingernails."
Before it's here, it's on the Bloomberg Terminal.
LEARN MORE