Intesa CEO Rules Out Takeover of Monte Paschi Amid Selloff
by
Messina says there's `absolutely no pressure' from government

Italy's non-performing loans at $219 billion in November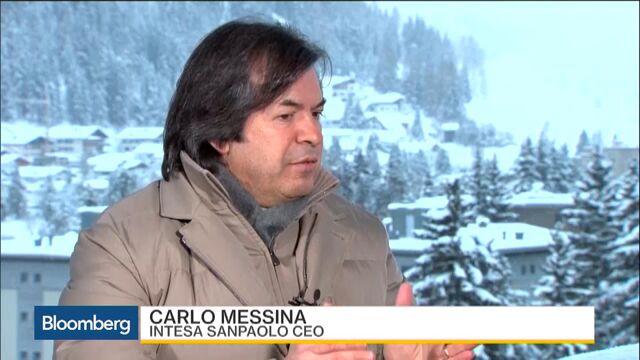 Intesa Sanpaolo SpA Chief Executive Officer Carlo Messina ruled out an acquisition of Banca Monte dei Paschi di Siena SpA as the world's oldest lender extended losses to a record low.
"Intesa is devoted to creating value for shareholders, so can't buy Monte Paschi and won't buy any other Italian bank," Messina said in interview with Bloomberg Television's Francine Lacqua at the World Economic Forum in Davos, Switzerland. There is "absolutely, no pressure from the government," to take over the Siena, Italy-based lender, he said.
Italian banks have been embroiled in a selloff amid increasing concerns that 201 billion euros ($219 billion) in bad debt may weigh on the weakest lenders already hurt by a struggling economy as the European Central Bank steps up scrutiny of non-performing loans. Banca Monte dei Paschi, which was bailed out twice, said on Wednesday that it suffered "limited" deposit withdrawals as the shares led declines among European banks.
"Intesa's remarks add selling pressure confirming the lack of an apparent potential partner for the bank," said Alexander Pelteshki, an investment manager at Kames Capital Plc in Edinburgh. "This is adding to the issues weighing on the bank in light of the huge NPL stack and so far little progress on the bad bank."
Italian lenders extended declines in Milan trading, with Banca Monte dei Paschi slumping as much as 24 percent, bringing losses this year to about 56 percent.

Italy's Finance Minister Pier Carlo Padoan met with Italian Premier Matteo Renzi and central bank Governor Ignazio Visco on Wednesday to discuss the banking sector, according to a spokesman for the Finance Ministry. Italy will take all measures necessary to press ahead with consolidation among lenders, Renzi's office said in a statement.
Banca Monte dei Paschi's 500 million euros of 5.6 percent junior notes fell 9 cents on the euro to a record low of 49.5 cents on Wednesday, according to data compiled by Bloomberg. The bonds were quoted above 90 cents on Jan 11.
"Monte Paschi has 47 billion euros in NPLs -- compared to the size of the bank, it's one of the worst situations in Italy," said Francesco Castelli, a London-based portfolio manager at Banor Capital. "They're quite well provisioned at a 51 percent coverage ratio, but if that's not enough, they would need yet another capital increase."
'Panic Selling'
The bad-loan review by the ECB's oversight arm, the Single Supervisory Mechanism, will be carried out in the coming weeks. Banco Popolare SC, Banca Popolare di Milano Scarl, Banca Carige SpA, UniCredit SpA and Banca Popolare dell'Emilia Romagna were among Italian lenders asked to submit data on soured debt.
Messina called the slump in Italian bank shares "panic selling," while Banca Monte dei Paschi CEO Fabrizio Viola said the decrease doesn't reflect the lender's fundamentals.
"The selloff is not justified," Messina said. "There is a lot of confusion over Italy's non-performing loans," because markets don't consider provisioning and collateral. The attention of supervisors is not only on Italian banks, it's on European banks."
The ECB hasn't signaled "specific concern about Italian banks, but it is just a study to identify the best practices for the management of non-performing loans," Padoan said in a statement on Tuesday. Italy's government has been seeking to set up a bad bank to tackle soured loans.
"In my view it's not so important" to have a bad bank, Messina said. "At the end, non-performing loans, if you have collateral, are a source of future revenues. If the value of collateral improves in a recovery time, you can be in a position to make a lot of money."
Before it's here, it's on the Bloomberg Terminal.
LEARN MORE