business
Former Drug CEO Shkreli Subpoenaed to Appear Before Congress
By
House Oversight Committee sent subpoena to Shkreli last week

Valeant interim chief Schiller will testify, company says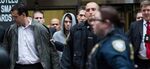 Martin Shkreli, the former drug company CEO charged with securities fraud, has been subpoenaed by a U.S. congressional committee investigating the price of drugs.
The House Committee on Oversight and Government Reform is holding a Jan. 26 hearing on "developments in the prescription drug market," and has asked for documents about how treatments are priced from several companies, including Valeant Pharmaceuticals International Inc. and Turing Pharmaceuticals AG, Shkreli's former company. Turing rose to notoriety last year after it acquired a decades-old anti-parasitic treatment and overnight raised the price to $750 a pill from $13.50.
Shkreli, a prolific presence on Twitter, didn't respond to a request for comment, but he did tweet. "House busy whining to healthcare reporters about me appearing for their chit chat next week. Haven't decided yet. Should I?" Shkreli asked his 40,000 followers on social media. Then, posting a picture of the subpoena, he said: "Found this letter. Looks important."
His lawyer, Baruch Weiss, declined to comment.
"I have been trying for the better part of a year to get information from Martin Shkreli about his outrageous price increases, and he has obstructed our investigation at every
turn," said Representative Elijah Cummings of Maryland, the top Democrat on the oversight panel. "He claims publicly that he wants to explain to Congress how drug pricing works. On Tuesday, he will get his chance."
Price hikes of older medications has led to increased scrutiny in Washington in the past months. Valeant's interim chief executive officer, Howard Schiller, will testify at the hearing, the company confirmed. Valeant has been under pressure after a series of price increases and disclosures of relationships with mail-order pharmacies.
Schiller, who was named this month while CEO Michael Pearson stays on medical leave, "looks forward to testifying and sharing with the committee how Valeant works to make its drugs available to the millions of patients who depend on them," spokeswoman Laurie Little said in a statement.
Expected to Comply
Shkreli is facing charges related to another former company, separate from Turing, and several hedge funds he used to run. He has maintained his innocence -- including on his Twitter feed -- and pleaded not guilty. It hasn't been clear if he would appear at the congressional hearing.
"We subpoenaed him," MJ Henshaw, a spokeswoman for the committee, said in an e-mail. "The Committee expects him to comply with that subpoena," which was sent by the committee last week.
Shkreli is the only person who's been subpoenaed as part of the hearing, Henshaw said.
The Senate Special Committee on Aging is also investigating drug price hikes and asked for documents last year from four drugmakers, including Turing and Valeant. The committee twice subpoenaed Shkreli last month for records related to business conducted on his personal devices, Chairwoman Susan Collins, a Republican from Maine, said Wednesday on the Senate floor. Shkreli has invoked the Fifth Amendment and hasn't handed over the documents, she said.
— With assistance by Cynthia Koons, and Christie Smythe
(
Updates with decline to comment in fourth paragraph.
)
Before it's here, it's on the Bloomberg Terminal.
LEARN MORE