Forget About 2008 Sequel in U.S. Stocks, Economy, Citigroup Says
by
Strategist Levkovich sees more differences than similarities

Bank tightening of credit terms far from pre-recession levels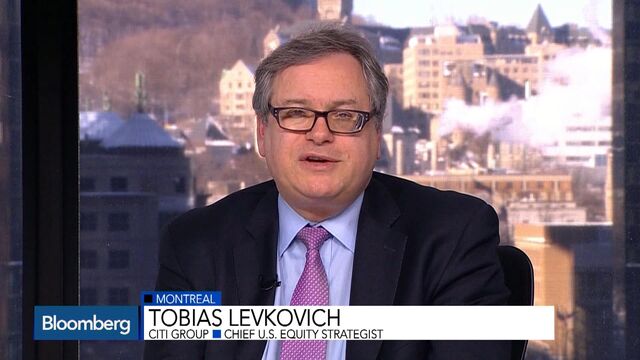 Speculation that the stock market and economy are headed for the kind of turmoil that marked the 2008 financial crisis is off base, according to Tobias Levkovich, Citigroup Inc.'s chief U.S. equity strategist.
"It is actually far more challenging to find comparisons than differences" between then and now, Levkovich wrote in a Jan. 15 report. Aside from a relatively close relationship between moves in U.S. and Chinese stocks, "The hard data is less than convincing."
The chart below highlights a data series that he cited: the gap between the percentage of U.S. banks toughening terms for loans to larger companies and those easing criteria, as compiled by the Federal Reserve. The differentials are based on quarterly surveys of senior loan officers.

Last quarter's figure was positive, showing a tendency toward tightening credit, for the first time in about four years. At 7.4 percentage points, the spread was far smaller than the reading of 19.2 shortly before the 2007-2009 recession began. The previous two contractions started after the index rose above 50.
Loan availability is among several reasons "that make the current market correction unlike 2008," Levkovich wrote. The New York-based strategist also cited differences in bond yields, home prices, consumer debt burdens and confidence, companies' hiring plans, investor sentiment and oil prices.
Levkovich expects the Standard & Poor's 500 Index to conclude this year at 2,150, a gain of 18 percent from the gauge's level of 1,827.04 at 1:02 p.m. in New York. He cut his projection last week by 50 points to reflect weaker-than-expected profit at energy companies, hurt by falling crude prices.
Before it's here, it's on the Bloomberg Terminal.
LEARN MORE