Emerging Markets Lost $735 Billion in 2015, More to Go, IIF Says
by
More than 90 percent of the outflows were from China

Think tank sees $348 billion exiting developing world in 2016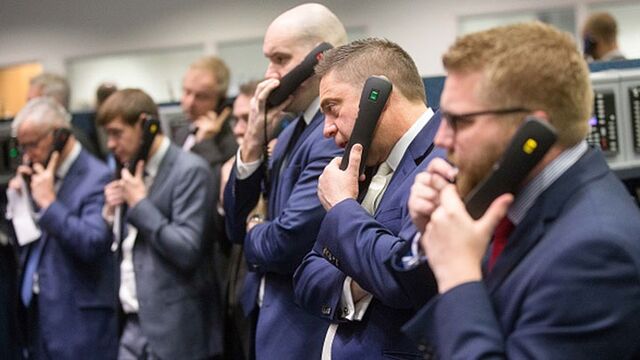 Global investors and companies pulled $735 billion out of emerging markets in 2015, the worst capital flight in at least 15 years, the Institute of International Finance said.
The amount was almost seven times bigger than what was recorded in 2014, the Washington-based think tank said in a report on Wednesday. China was the biggest loser, with $676 billion leaving its markets. The IIF predicted investors may withdraw $348 billion from developing countries this year.
Emerging-market stocks are trading at the lowest levels since May 2009 and a gauge of 20 currencies has slumped to a record. A meltdown in commodity prices and concern over the slowdown in China's growth to the weakest since 1990 are spurring investors to dump assets from China to Russia and Brazil. The 31 biggest developing markets have lost a combined $2 trillion in equity values since the start of 2016.
"We've seen massive outflows from emerging markets to the benefit of the euro zone and Japan," said Ibra Wane, a Paris-based senior equity strategist at Amundi Asset Management, which managed 954 billion euros ($1 trillion) as of Sept. 30. "Institutional investors have been more attracted by these regions."
Currency Instability
Wane said the shift in flows is a result of monetary-policy changes, as the Federal Reserve raised interest rates in December for the first time in almost a decade, which is also partly to blame for the volatility in emerging-market currencies.
"I'd rather look first at stabilization of currencies," Wane said. "If this were to come true, then probably also flows would come on top of it."
All 24 emerging-market currencies tracked by Bloomberg have depreciated against the dollar in the past year, with the Argentine peso, the Brazilian real and the South African rand getting hit the worst.
"Countries with large current-account deficits, high levels of foreign-exchange corporate indebtedness and questionable macro policy frameworks would come under particular pressure in the event of further emerging-market retrenchment," the IIF report said. "At-risk countries include Brazil, South Africa and Turkey."
The Chinese yuan's 5.5 percent drop in the past 12 months was one of the drivers of outflows from the world's second biggest economy, according to the IIF report.
"The 2015 outflows largely reflected efforts by Chinese corporates to reduce dollar exposure after years of heavy dollar borrowing, as expectations of persistent RMB appreciation were replaced by rising concerns about a weakening currency," the report said.
Before it's here, it's on the Bloomberg Terminal.
LEARN MORE