Deezer Raises $109 Million in Music Race With Spotify, Apple
by
Len Blavatnik's Access Industries leads latest funding round

Streaming service has over 6 million subscribers worldwide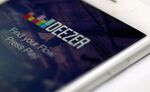 Deezer SA, which called off a planned initial public offering in October, raised 100 million euros ($109 million) from a group of investors led by billionaire Len Blavatnik as the European music-streaming company tries to keep pace with Spotify Ltd. and Apple Inc.
Deezer will use the money for marketing campaigns and new features, according to a statement Wednesday. The company sought the funding after plans to raise $343 million in an IPO fell through. Blavatnik's Access Industries invested 100 million euros in Deezer in 2012, and controls a piece of Spotify through its ownership of Warner Music Group.

Deezer, which has more than 6 million subscribers, is waging an uphill battle against larger, wealthier rivals. Spotify boasts the biggest subscriber base of any pay music service, with more than 20 million. Deezer had staked a claim as the second-largest pay music service until Apple introduced Apple Music, which surpassed 10 million customers in January, the website Re/code reported on Jan. 10.
"They are in a very tricky position," said Chris Hayes, a media analyst with Enders Analysis Ltd. "They need to present a new offer to people acquainted with better known brands."
Unlike Spotify and Apple, Deezer has sought to reach new users by relying on partnerships with telecommunications providers like Orange SA, a participant in the funding. Though this reduced marketing costs and provided a means of customer acquisition, many people suspected the deals inflated the size of Deezer's subscriber base without bringing in sales, according to Hayes. Deezer was offered for free as part of mobile-phone plans.
Documents obtained by Billboard revealed almost half of Deezer's 6 million customers weren't generating revenue for the company, according to a September story.
Deezer will continue to pursue partnerships with telecommunications providers, Chief Executive Officer Hans-Holger Albrecht said in an interview. The company will try to offer the service for a limited time before asking customers to subscribe separately.
Deezer has been unable to secure a significant deal with a phone carrier in the U.S., Albrecht said. It has been more focused on customers in Europe and emerging markets.
"We go market-by-market, which is why we started with France and Europe," Albrecht said. "We are not a free service where you need to be strong in the U.S. to be strong on a global basis."
Deezer faces the same hurdle as other online music services: turning a profit while turning over the majority of revenue to record labels in the form of royalties. Neither Spotify nor Deezer is profitable, according to company documents and published reports from last year, while Pandora Media Inc., the world's largest Internet radio service, has struggled to turn a profit as well.
Before it's here, it's on the Bloomberg Terminal.
LEARN MORE