Davos Seeks Positives Amid Darkest Outlook Since Last Crisis
by
McKinsey's Barton predicts `tough' first half of year

Correction is `normal' and will continue, says UBS's Weber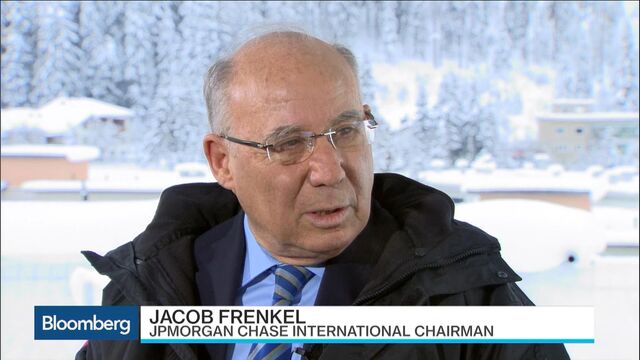 Leaders of the global economy sought glimmers of light amid the darkest outlook since the financial crisis tipped the world into recession seven years ago.
As markets convulsed anew on Wednesday with oil plunging and European equities sinking, the World Economic Forum's annual meeting began in Davos, Switzerland, with the list of worries ranging from China's slowdown to tumbling commodity prices and geopolitical tensions. The concerns were tempered by the hope that markets will soon stabilize.
"We're going to have a very tough first half and we're not done on the downside," said Dominic Barton, managing director of McKinsey & Co. "I hope things will then pick up."

There are numerous threats to occupy the attention of the 2,500 business executives, bankers and investors gathered in the Alpine resort for four days of talks and cocktail parties. China just recorded its weakest annual growth since 1990 and is trying to manage that slowdown along with a decline in the yuan. Oil has tumbled to near its lowest level in more than a decade and stocks have suffered their worst January ever. The Federal Reserve is testing nerves by raising interest rates. 
"We're going through a correction and clearly global growth has come down," said UBS Group AG Chairman Axel Weber. "It's a normal correction, it will last for some more time."
Mounting Tensions
Politics are no help, with tensions mounting in the Persian Gulf and on the Korean peninsula as the conflict in Ukraine goes unresolved. Europe's refugee crisis is showing no signs of abating and terrorists have struck four continents. Economic frustrations have driven the rise of populists in the U.S. and France while sowing doubts about the longevity of German Chancellor Angela Merkel and Britain's membership in the European Union.
As for oil, BlackRock Inc. Chief Executive Officer Laurence D. Fink said while its collapse would bankrupt energy companies and sow instability in crude-rich nations, it also promises to spur spending by consumers and companies.
"The reality is 4 billion human beings are going to have cheaper energy," said Fink.
Visitors to the conference were faced with stark evidence of volatility and danger: At the congress center that serves as the hub for events, heavy concrete barriers and new watchtowers with armed guards line the roads -- an addition to the security checkpoints inside the building that have been in place for several years.
Growth Outlook
The bad news just kept rolling in. After the International Monetary Fund cut its estimate for global growth this year to 3.4 percent from 3.6 percent, European stocks fell to a 13-month low as results updates from companies including Royal Dutch Shell Plc and BHP Billiton Ltd. exacerbated investor worries about global growth.
"Low growth is the new normal," said Martin Sorrell, CEO of WPP Plc.
China, which now accounts for about 15 percent of global output and helped propel the world out of recession in 2009, lies behind much of the anxiety. President Xi Jinping's efforts to shift his country's economy toward consumption and services rather than investment and manufacturing have decreased demand from other countries, and the yuan has weakened. Those factors, combined with a botched effort to prop up stocks, have spooked investors.
There are major ripple effects. Oil is down about a fifth this year, also undermined by expectations of a surge in crude exports from Iran after the removal of sanctions. Equities have slumped, with almost $7 trillion knocked off their value globally since the start of the year.
"It's not yet a meltdown," said Paul Singer, founder of Elliott Management. "At some point things could be very disorderly."
In developed countries, there is a sense of frustration as once-robust middle classes fall ever further behind the have-lots. The charity Oxfam said on Monday that the richest 1 percent of people on Earth now control more wealth than the rest of the world's population combined.
The frustrations have given rise to populist insurgents that now include the likes of billionaire property magnate Donald Trump. He has led the field of Republican presidential aspirants for months, attracting support for positions such as a ban on Muslims entering the country. That could destabilize politics in the world's largest economy, which large companies and investors have relied on to drive growth as Europe stagnates and emerging markets underperform.
"For those constantly focused on reelection and nothing more we need a revolution," said Fink. "Unfortunately, now the revolution may be Donald Trump."
Click DAVOS for a real-time Brief on the World Economic Forum
Before it's here, it's on the Bloomberg Terminal.
LEARN MORE