Cormann Says Aussie Dollar Decline Helps Australia's Economy
by and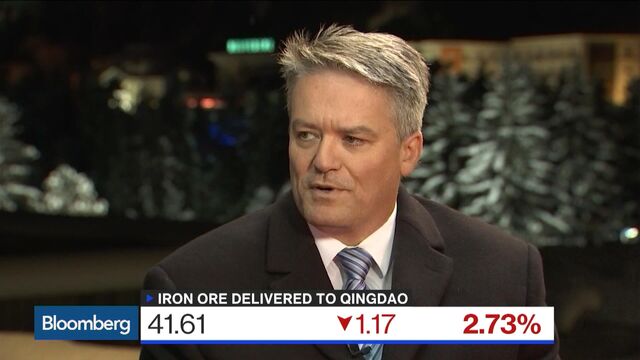 The decline in the Australian dollar bolsters the country's competitiveness and supports its transition from a resource and investment-driven economy as demand from China weakens, Finance Minister Mathias Cormann said.
"The value of the Australian dollar is set by the market," Cormann said in an interview Wednesday with Bloomberg Television in Davos, Switzerland. "That is an automatic stabilizer in our system. It helps to transition the Australian economy and it helps the Australian economy deal with the sorts of challenges that we've been facing in recent times."
The Aussie has dropped 5.7 percent this year and fell to 68.27 U.S. cents on Jan. 15, the weakest since March 2009. With investor confidence shaken by China's surprise yuan devaluations and global stocks sliding to the lowest level since July 2013, the Australian and New Zealand dollars have led declines among Group of 10 currencies.
"Our economy is transitioning quite well from resource, investment-driven growth to broader drivers of economy activity," Cormann said. "We're quietly confident about how China is tracking and we see a lot of upside opportunity for Australia to expand our trade relationship beyond resources into other sectors of the economy, in particular agricultural and food export services."
Asked whether there are financial-stability risks stemming from the Australian housing market as the economy cools, Cormann said "the short answer to that is no." Data earlier this month showed Sydney home prices fell for the second consecutive month and recorded the worst quarter in four years amid stretched affordability and record prices.
"It's a situation that we continuously monitor," Cormann said.
Before it's here, it's on the Bloomberg Terminal.
LEARN MORE