Photographer: Philippe Lopez/AFP/Getty Images
Tin Climbs to Highest in Month in Shanghai on China Smelter Cut
Bloomberg News
Prices in London trade near lowest in more than six years

Indonesia has curbed exports in a bid to support rates
Tin futures climbed to the highest in a month in Shanghai after smelters in China, the biggest supplier, agreed to cut production by more than 10 percent in a bid to stem a decline in prices to the lowest level since 2009.
Companies representing more than 80 percent of the country's output, including the largest producer Yunnan Tin Co., plan to reduce refined supply by 17,000 metric tons, according to a joint statement received by e-mail on Wednesday. The nine companies produced 138,000 tons in 2015, according to data from ITRI, an industry group.
Prices of tin used in everything from packaging to consumer electronics have slumped 30 percent in the past year in London amid a slowdown in China, the largest consumer, and a rout in global stock and commodity markets. While Indonesia, the top exporter, has also curbed supplies, prices have continued to drop on weak demand and increased production from Myanmar. The cut is equivalent to about 5 percent of global output last year.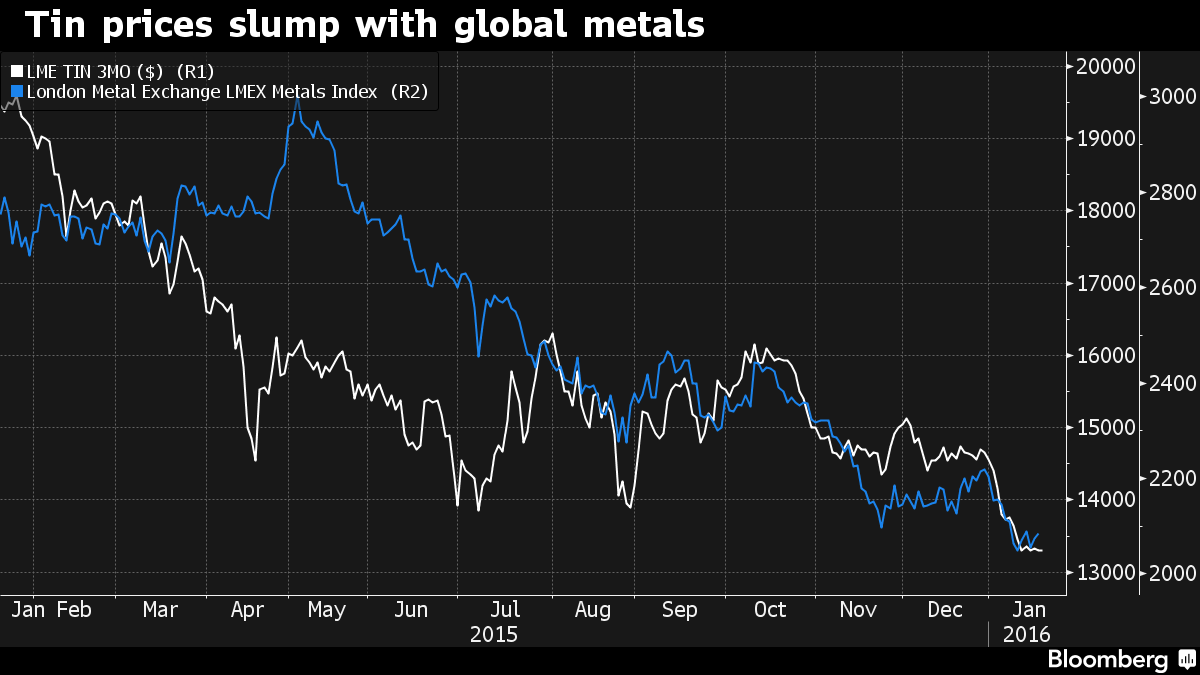 "The cut should deepen the global shortage and offer some support to prices," Cui Lin, chief representative of ITRI's unit in China, said by phone from Beijing on Wednesday. World consumption reached 346,000 tons in 2015, outstripping production of 340,000 tons, according to ITRI data.
Prices in Shanghai rose as much as 1.9 percent to 95,680 yuan ($14,547) a ton on Thursday before closing at 95,240 yuan. The metal fell 0.6 percent in London after jumping 1.3 percent on Wednesday, the biggest daily increase since November.
The market is detached from fundamentals, the smelters said in the statement, calling upon the government to buy tin for reserves in a pro-active way. Other companies pledging the cuts include Yunnan Chengfeng Non-ferrous Metals Co. and Guangxi China Tin Group Co., they said. The producers took the decision after a meeting on Jan. 14 in the southwestern city of Kunming.
More Cuts
Chinese smelters supplying copper, nickel and zinc have also announced output reductions for 2016. That's done little to help prices which have extended declines this year with the London Metal Exchange Index of six industrial metals plunging to the lowest level in almost seven years this month.
China, the world's second-largest economy, is heading for the slowest growth in a generation as the country moves away from investment-led expansion to one driven by consumption and services. A weakening currency, a slumping stock market and policy flip-flops have all increased anxiety among global investors at the start of the year.
Plunging stockpiles of tin tracked by the LME and the lowest shipments from Indonesia since at least 2007 have failed to halt the rout. Inventories have tumbled by about half since the start of 2015 and reached the smallest in almost seven years in October, while exports from Indonesia fell about 8 percent last year to 70,155 tons.
Supply from the Southeast Asian country could be further constrained if offshore mining by PT Timah, the biggest producer, is curbed. The company is sending a letter to the governor of Bangka in response to a request to stop offshore mining after a complaint from local fishermen, Corporate Secretary Agung Nugroho said by phone from Jakarta.
"We have received a letter from the governor asking us to halt offshore mines in Kelabat bay and other locations," Nugroho said. "We will respond and explain the permit procedure, the environmental impact assessment and effect on the company."
— With assistance by Alfred Cang
Before it's here, it's on the Bloomberg Terminal.
LEARN MORE