China Seen Losing Another $300 Billion in FX Reserves This Year
Bloomberg News
$3 trillion seen as critical threshold for market sentiment

If a crisis erupts, reserves may be 'burned down quickly'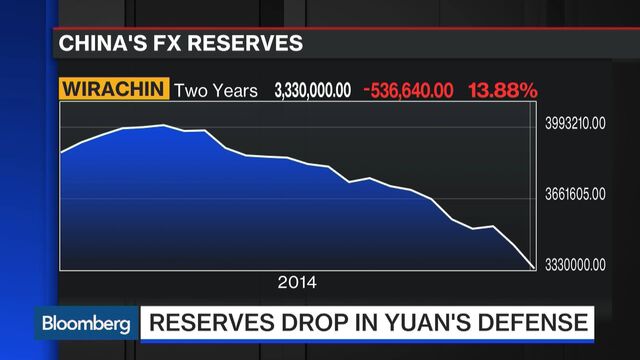 China's foreign-exchange reserves are seen tumbling $300 billion this year to a level near what some analysts say risks undermining confidence in the central bank's ability to defend the currency.
Ten out of 12 economists in a Bloomberg survey last week forecast reserves will drop to $3 trillion or less by the end of this year, and the median estimate is for that same amount. The holdings are projected to tumble further, to $2.66 trillion by the end of next year, the lowest since 2010.
Policy makers have been battling to hold up the yuan amid slower growth and slumping stocks, burning through reserves to reduce yuan volatility. The stockpile plunged $513 billion last year to $3.33 trillion, the first annual drop since 1992, as capital outflows accelerated and the yuan lost its status as a one-way bet on appreciation after a surprise devaluation in August.
"A critical threshold that affects market sentiment is $3 trillion," said Daili Wang, an economist at Roubini Global Economics LLC in Singapore. "The biggest puzzle is how China could achieve its goal of FX liberalization and yuan internationalization while containing risks and volatility at a manageable level."
Respondents' estimates for how much in reserves is needed for the central bank to sustain confidence in its ability to manage the currency range from Tokyo-based Hamagin Research Institute's $770 billion to Wang's $3 trillion.
Other analysts who say $3 trillion is a potential psychological trigger include Hao Hong, chief strategist at Bocom International Holdings Co., who says $2.8 trillion in reserves may already be spoken for just to cover its liabilities, and Victor Shih, a professor at the University of California at San Diego who studies China's politics and finance.
"There will be another psychological switch if it gets below $3 trillion yuan," said Shih, who wasn't among the survey respondents. "I don't think there will be panic after that, but certainly people in China especially will become more alarmed. We could be months or maybe even weeks from that point."
By another measure -- reserves to M2, a broad measure of money in circulation -- China's firepower already seems limited. The dollar reserves account for 15.5 percent of M2, the lowest since 2004 and less than most Asian economies including Thailand, Singapore, Taiwan, Philippines and Malaysia, according to data compiled by Bloomberg.

Then there's the impact of a potential crisis of confidence triggered by an unknown event, which could cause all usable reserves to "be burned down quickly," said Kevin Lai, chief economist for Asia excluding Japan at Daiwa Capital Markets in Hong Kong.

Other economists say such debate is academic, overlooking China's ability to impose capital controls in a worst-case scenario. Reserves will never fall to a level that threatens stability of the currency because "China will strengthen regulations over capital outflows before FX drops to that amount," said Zhao Yang, the Hong Kong-based chief China economist at Nomura Holdings Inc.
Still, absent such measures, the low coverage on the money supply highlights the risk that the buffer can run down quickly if there's a further acceleration of capital from China. Outflows approached $1 trillion over 10 months through November, Bloomberg data show.
China has already tightened capital controls and stepped up its defense of the currency. The latest measure this week was to require lenders in offshore yuan-trading centers to lock away a share of deposits as reserves in the central bank. That followed large-scale intervention in Hong Kong last week that sent yuan borrowing rates in the city soaring to a record as liquidity was temporarily crunched.
"As long as the FX regime for the yuan remains in place, Chinese authorities will need substantial FX reserves to cushion episodes of high uncertainty," said Frederik Kunze, an analyst at Norddeutsche Landesbank Girozentrale in Hanover, Germany. "Only further moves to liberalize the currency will reduce the need for large FX reserves."
— With assistance by Kevin Hamlin, and Cynthia Li
Before it's here, it's on the Bloomberg Terminal.
LEARN MORE