Canada Keeps Rate at 0.5%, Sees Recovery From Oil 'Setback'
Greg Quinn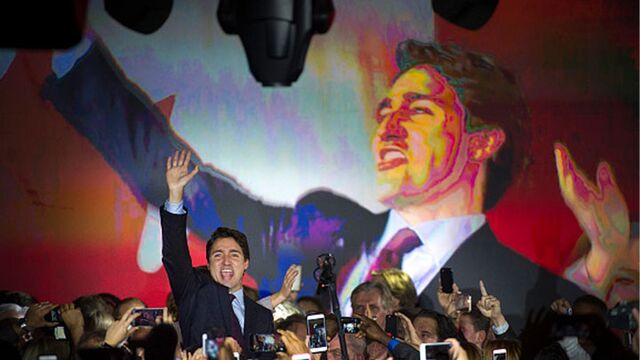 Bank of Canada policy makers kept their benchmark interest rate unchanged and said stronger U.S. demand, a weaker currency and two rate cuts last year are leading the economy out of an oil slump.
The benchmark rate on overnight loans between commercial banks remained at 0.5 percent, in a decision released Wednesday from Ottawa. Global growth will pick up in 2016, Canada's job market remains resilient and stalling fourth-quarter growth was due to temporary factors, policy makers said.
Forecasters were evenly split before Wednesday's decision on whether the precipitous decline in the Canadian dollar should be allowed to work through the system, or if continued declines in crude oil warranted more monetary stimulus. Although the shift toward non-energy production is taking longer than expected, the bank confirmed it's happening.
"The protracted process of reorientation towards non-resource activity is underway, helped by stronger U.S. demand, the lower Canadian dollar, and accommodative monetary and financial conditions," policy makers led by Governor Stephen Poloz said in a statement.
Canada's currency reversed declines after the decision, trading 0.4 percent higher at C$1.4505 per U.S. dollar at 10:03 a.m. in Toronto, on course to snap a record 14-day losing streak.
'Highly Uncertain'
"I'm surprised they didn't go, given they noted things were highly uncertain," said Benjamin Reitzes, a senior economist at BMO Capital Markets in Toronto. "It's going to be an interesting few months. I wouldn't rule out a rate cut if we get another downdraft from oil prices." Policy makers may be leaning on a federal budget that provides fiscal stimulus, he said.
Gross domestic product stalled in the fourth quarter as crude oil prices tumbled, delaying the economy's return to full output by about six months to the end next year, policy makers said. Risks to the inflation outlook are "roughly balanced" and price gains will quicken from 1.4 percent to around the bank's 2 percent target by the end of 2017.
The central bank cut its 2016 growth forecast to 1.4 percent from an October prediction of 2 percent on falling investment and a move higher in business inventories. The estimate that output stalled in the fourth quarter compares with an October prediction it would expand at a 1.5 percent annualized pace.
Fiscal Stimulus
The latest forecasts don't include a boost from any fiscal stimulus in the federal government's next budget, which may include a deficit of at least C$10 billion ($6.9 billion). There's also a risk further declines in crude oil prices will force more companies to stop producing, the Bank of Canada said.
"Prices for oil and other commodities have declined further and this represents a setback for the Canadian economy," policy makers said in the statement.
On the plus side, exporters of products from seafood to rail cars and trucks are showing solid growth, the bank said. So are service companies that benefit from a cheaper currency, such as those in the tourism industry.
The Group of Seven's biggest crude oil exporter is relying on the Canadian dollar's fall to 13-year lows to revive manufacturing, indebted consumers that keep purchasing and deficit spending in a budget due by April from Prime Minister Justin Trudeau. Some investors predict Poloz will cut interest rates to record lows later this year as the pain of oil below $30 a barrel overwhelms other sources of growth.
Wednesday's statement plots a different course than a year ago when Poloz's surprise interest-rate cut sounded an early alarm about the damage from falling crude oil prices.
Manufacturers, battered in the 2009 recession, are starting to find relief with Canada's dollar falling 18 percent over the last 12 months. Aircraft simulator maker CAE Inc. said Dec. 21 it had won training contracts worth at least C$100 million. The Montreal-based company said the work was in China, Japan and Europe.
Canada's monetary policy "is appropriate" the central bank said Wednesday, reiterating that "financial vulnerabilities continue to edge higher, as expected."
Eighteen of 34 economists in a Bloomberg survey predicted no move, and the other 16 called for a quarter-point cut. Poloz said in a speech last month the central bank's estimate of the effective lower bound is now negative 0.5 percent. Trading in the swaps market before the decision showed the odds of a cut were almost 60 percent.
Before it's here, it's on the Bloomberg Terminal.
LEARN MORE