Bernanke Says Dollar's Two-Year Rally Is Running Out of Steam
by and
Former Fed chief's comments build on blog posts on greenback

Any further gains require policy divergence from ECB, BOJ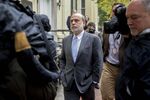 Ben S. Bernanke says the greenback may have peaked.
"Much of the appreciation in the dollar may have already happened -- we may not see much more," the former Federal Reserve Chairman said Tuesday at the Asian Financial Forum in Hong Kong. Further gains depend on the pace of the Fed's tightening cycle, he said.

The dollar has rallied against all 16 of its major peers during the past two years on speculation that the Fed would boost borrowing costs in contrast to other major central banks that were easing policy, including the European Central Bank and Bank of Japan. Greenback strength became one of the Fed's main preoccupations in the run-up to its December rate increase, the first in almost a decade.
The central bank's trade-weighted measure of the dollar rose to 125.6 on Jan. 15, the highest since 2002, while its inflation-adjusted gauge advanced to an 11-year peak in December. The Bloomberg Dollar Spot Index rose 0.1 percent to 1,251.98 at 8:31 a.m. in New York, the highest in data going back 11 years. It has gained almost 23 percent since the start of 2014.
Hedge funds and other large speculators have pared futures wagers on a stronger dollar. Bullish positions on the greenback against eight major currencies outweighed bearish bets by 303,113 as of Jan. 12, the least since November, according to Commodity Futures Trading Commission data.
Fed Watch
The Fed's next policy-setting meeting is on Jan. 26-27 in Washington. The probability that the central bank will increase rates is about zero this month and 31 percent in March, based on the assumption that the effective fed funds rate will trade at the middle of the new target range after the next increase.
Bernanke, who served as Fed Chairman from 2006 to 2014, has written about the role of the dollar twice this month in a series of blog posts for the Brookings Institution. In a Jan. 7 post, he argued the "exorbitant privilege" that the U.S. gains from the dollar's status as a global reserve currency has been eroded by competition from other tenders, including the euro and yen, as well as America's shrinking share of the world economy.
In an earlier post, he challenged claims that the U.S. waged a "currency war" after the 2008 financial crisis by using monetary policy to weaken the dollar and gain advantage in global trade.
Before it's here, it's on the Bloomberg Terminal.
LEARN MORE