Barclays Cutting 1,000 Jobs, About 230 Eliminated in Asia
by , , and
Bank to exit several Asian countries, keep prime brokerage

Bonus pool said to be cut by at least 10% at investment bank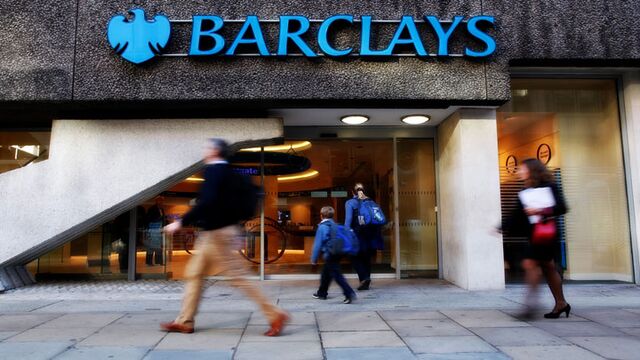 Barclays Plc Chief Executive Officer Jes Staley unleashed a fresh round of cuts at the investment bank that will eliminate 1,200 jobs worldwide and shut securities operations across Asia, people with knowledge of the matter said.
The biggest cuts will fall in the Asia-Pacific region including winding up the cash equities business, said the people, who asked not to be identified because the decision isn't public. While Barclays will exit operations in countries including Australia, Taiwan, South Korea and Malaysia, it plans to keep its prime brokerage and derivatives business in Asia, the people said. The bank is also shutting its Russian office and cutting jobs in London and New York, they said.
Just over a month into his job, Staley is taking an ax to the investment bank that has seen the lender embroiled in a series of scandals over the past years. The former JPMorgan Chase & Co. has also imposed a hiring freeze and is restructuring the wealth-management business to shore up earnings growth, people familiar have said.
"This suggests that they are having to be very aggressive to have any chance of boosting returns in the investment bank as a whole and it may imply a lack of patience by the chairman in terms of how long this process will take," said Christopher Wheeler, an analyst in London with Atlantic Equities LLP.
Staley and Chairman John McFarlane are scheduled to present a broader strategic update alongside the bank's full-year results on March 1. A spokesman for Barclays in London declined to comment.
Bulge-Bracket
"We are, and will remain, one of the small number of firms globally that provide the critical link between providers and users of capital" and "we are proud to be a bulge-bracket investment bank," Tom King, who heads the unit, said in a memo to employees on Thursday. "Our returns have improved," but "there is more to do before we deliver the potential of our business."
European investment banks have been hurt by a slump in revenues, tougher financial regulation and rising costs tied to compliance, forcing them to focus on the most profitable units. Deutsche Bank AG said late Wednesday that "challenging market conditions" hurt fourth-quarter earnings at its investment bank, when predicting a loss for the group both in that period and for 2015.
Morgan Stanley CEO James Gorman said this week he was "effectively done" with about 1,200 job reductions in fixed-income trading after concluding the outlook for the business is poor. Credit Suisse CEO Tidjane Thiam is also cutting the bank's fixed-income business and stopped making a market in government bonds across Europe, instead targeting an expansion in wealth management.
At Barclays, McFarlane has pledged to focus on the most profitable businesses in the U.S. and the U.K. While the securities unit contributes about a third of the bank's revenue, it has the lowest profitability of four units with a 2.7 percent return on equity in 2014.
"Improving returns in the investment bank remains the most pressing issue for the group and incremental actions will be required so that it no longer drags against the wider group," said Mark Phin, an analyst at Keefe, Bruyette & Woods. Alongside full-year results, management will "be more explicit on its plans for the investment bank," while near-term revenue performance will continue to be "weak," he said.
Bonus Pool
The investment bank's bonus pool for 2015 may be cut by at least 10 percent from the previous year, one of the people said. The bank, which hasn't made a final decision on compensation, plans to pay bonuses in March, later than the usual mid-February timing, according to a separate person.
In 2014, the investment bank's bonuses dropped 24 percent to 1 billion pounds ($1.4 billion) from 1.3 billion pounds in the previous year, according to the bank's annual report. Total compensation costs for the division fell 9 percent to 3.6 billion pounds from 4 billion pounds over the same period.

Barclays rose 0.8 percent to 183.45 pence at 12:35 p.m. in London, paring its decline to 16 percent this year. Staley was hired as CEO after McFarlane fired his predecessor Antony Jenkins over the perceived slow pace of restructuring.
As part of its Asia overhaul, Barclays plans to close cash equity research, sales and trading, resulting in at least 230 job losses, according to the people familiar. The bank plans to maintain offices in Hong Kong, China, Japan, Singapore and India.
Japan Cuts
Barclays employees in Tokyo were informed of the cuts by the bank's Japan President Eiji Nakai in a 7.30 a.m. town hall meeting, according to people familiar with the situation. Nakai said the bank will close its cash equities operation in Japan and focus instead on derivatives, prime brokerage and electronic trading, the people said. About 80 positions in Japan will be lost, and a similar number in Australia, they said.
Some 40 to 50 investment bankers in Asia are losing their jobs as part of the overhaul, one of the people said. Among senior bankers leaving are Anoop Chaudhry, the Asia-Pacific head of power and utilities; Jorge Munoz, regional head of equity capital markets; Sander Hamersma, who ran the regional telecoms, media and technology group; and Dirk Simmons, Asia-Pacific co-head of industrials, according to people familiar. The bankers who are all based in Hong Kong, declined to comment or couldn't be reached.
The bank is closing all its cash equity research, sales and trading as well as its convertible bond-trading businesses across Asia, according to a memo sent to clients that was seen by Bloomberg. Barclays's equity-research team will stop covering stocks listed in Asia immediately, the memo said.
Russia Exit
In Europe, the Middle East and Africa, cash equities sales and execution and stock research will be discontinued in the Gulf region, Egypt, Turkey, Greece and eastern Europe, including Poland and Hungary, according to a separate memo seen by Bloomberg. Barclays also plans to "exit local presence completely" in Russia and cover customers from London.
In the U.S., Barclays is exiting residential mortgage and GNMA commercial mortgage backed securities trading and asset-backed derivatives, according to the memo. Operations will be focused on origination-led ABS and primary CMBS. It will also consider closing its precious metals business, according to the memo.
Like his predecessor, Staley is seeking to shrink an investment bank that has sparked a series of legal settlements. Barclays paid 1.5 billion pounds for rigging currency markets last year after a 290 million-pound penalty in 2012 for manipulating benchmark interest rates. The bank remains under investigation in Britain for its 2008 capital raising from Qatari investors, and the U.S. is probing allegations of misconduct tied to its dark pool.
Before it's here, it's on the Bloomberg Terminal.
LEARN MORE