Bank of Canada Rate Cut Still Seen Ahead as Oil's Dive Deepens
by and
Derivatives imply about 50% chance of reduction by April

Bet on lower rates just delayed: Standish Mellon's Murphy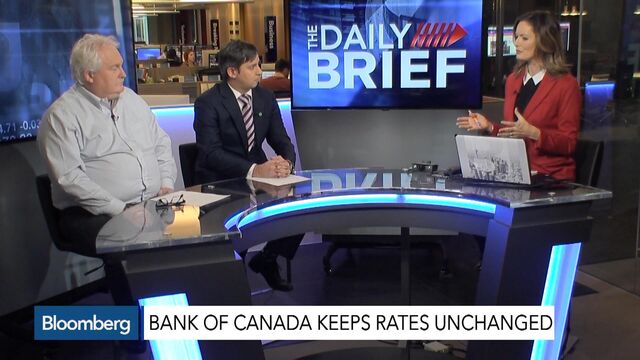 For Brendan Murphy at Standish Mellon Asset Management Co., the Bank of Canada's decision to keep borrowing costs steady doesn't spoil his bet on a rate cut -- it just means it's not ripe yet.
He's not alone in that opinion. Derivatives traders see about a 50 percent chance that the central bank will lower its benchmark rate by April, and around a 60 percent probability of a move by May, according to data compiled by Bloomberg. With oil plummeting this month, many investors were leaning toward a rate cut at Wednesday's meeting. The loonie rallied after the announcement, snapped a record losing streak, as the Bank of Canada held its target at 0.5 percent.

Pessimists on the Canadian economy, including Murphy, aren't convinced by the central bank's insistence that tumbling commodity prices are a "setback" and that the country is recovering. Oil, one of Canada's main exports, is down about 25 percent this year amid volatility in Chinese markets and concern that global economic growth is cooling.
"We still believe further rate cuts will materialize over the coming months," Murphy, who helps manage $16.5 billion as director of global fixed income at Standish Mellon in Boston, said in an e-mail. "The bank is being too optimistic on their forecasts for 2016."
Record Low
In the minutes before the Wednesday decision, derivatives implied a 55 percent chance of a rate reduction. Heading into the meeting, Murphy had built up a position in Canadian government debt, with a view to benefiting from a cut. Instead the nation's bonds fell, pushing yields up from record lows. The selloff presents a buying opportunity, Murphy said.
The central bank suggested that federal stimulus spending, U.S. economic growth and three years of currency depreciation would help the economy shift away from a focus on resource-related exports as the main driver of growth. Some analysts are skeptical.
"This was a missed opportunity," said David Watt, chief economist at HSBC Holdings Plc's Canadian unit in Toronto, predicting a rate cut in coming months. "They've left clearly in the market the strong possibility they'll have to cut again, because I don't think they're going to get the economic performance they seem to be anticipating."
Southern Rival
Watt pointed to signs of slower economic growth in the U.S. and to the fact that Canada's main competitor in that market, Mexico, has seen just as much currency depreciation, eliminating any potential export advantage.
"They don't make a compelling case why Canada should be better than other countries that have weak currencies," he said. "Countries that were looking for weak currencies to provide growth for exports have generally been disappointed."
The loonie, as the Canadian currency is known for the image of the aquatic bird on the C$1 coin, rose 0.5 percent to C$1.4430 per U.S. dollar Thursday, its second straight advance. The gains followed a 13-day losing streak, the longest since the country ended its currency's peg to the greenback and let it trade freely in 1971. One loonie buys about 69.30 U.S. cents.
The Bank of Canada cut interest rates twice last year, saying the economy needed the help as it transitioned to non-commodity exports from oil as its main driver. A three-year slide in the loonie has helped, though the country's manufacturing capacity still remains below its heyday as it faces stiffer competition in the U.S. market.
Macquarie Group Ltd.'s David Doyle sees no reason to brighten his outlook, which calls for the Canadian dollar to fall to a record low 59 U.S. cents by year-end. While the loonie's unprecedented slide this year may have led the Bank of Canada to hold off on reducing rates, it will still cut when markets stabilize, he predicted.
"April and July are probably the meetings that have the highest probability," he said from Toronto. "There's very few signs of the reorientation within the economy towards the service sector, towards the manufacturing sector."
Before it's here, it's on the Bloomberg Terminal.
LEARN MORE