Bank of America: Hedge Funds Just Put the Largest Amount of Money Into Equities Since 2010
by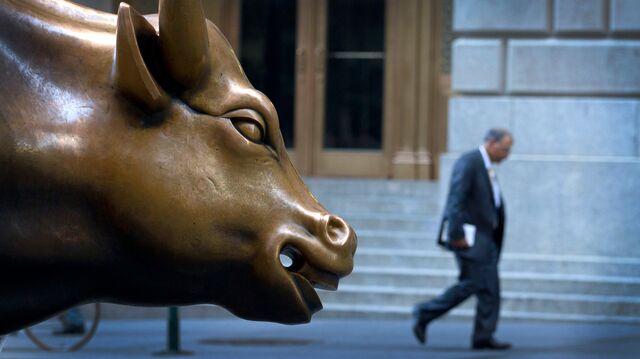 Hedge funds are attempting to buy the dip, according to the latest client flows data from Bank of America Merrill Lynch.
The insight into what the supposed "smart money" is doing comes as investors debate whether the recent market sell-off constitutes a buying opportunity or the start of a long leg-down. Less than a month into the new year, fewer than 50 stocks in the Standard & Poor's 500-stock index are in positive territory and more than 200 are down at least 10 percent. But while the index has been falling precipitously, hedge funds continue to pile into the market:
"Last week, during which the S&P 500 fell another 2.2 percent to bring the index into correction territory, BofAML clients were net buyers of U.S. equities for the third consecutive week, in the amount of $2.3 billion ... unlike the prior week, net buying was chiefly due to hedge funds, who bought stocks for the fourth week in a row. Buying by this group was the largest since September 2010. Institutional and private clients both sold stocks last week after having been buyers the prior week."
The note, sent out by strategists Jill Carey Hall and Savita Subramanian, goes on to point out that hedgie-related buying spanned nearly every sector, with consumer discretionary the only exception. Buying was, however, focused on stocks with big market values; hedge funds pulled money out of small- and mid-cap stocks. Exchange-traded funds were the favored vehicle for the hedge funds' collective shopping spree.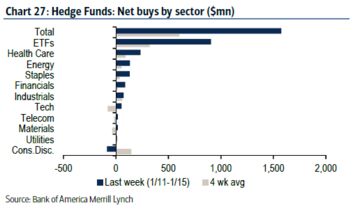 The BofAML note comes as some high-profile hedge fund managers are putting money to work.
David Einhorn's Greenlight Capital has amassed a small stake in retail giant Macy's, while Whitney Tilson of Kase Capital Management told clients he will put some of the cash he has on the sidelines to work in the coming weeks.
"With [one third] of my assets in cash, I feel like a kid in a candy shop as I decide how much of my dry powder to invest right now into the many companies I've owned for years and know deeply whose stocks have fallen to silly levels, vs. how much I want to keep in reserve for future opportunities. So I'm going to split the difference: starting today and continuing next week, I'm planning to invest roughly half of my cash to add to 6-8 of my current favorite positions, while keeping [circa] 15 percent in reserve for either new stocks I find or to invest later if my existing portfolio sells off even further."
Before it's here, it's on the Bloomberg Terminal.
LEARN MORE