Baidu Ready for More Deals to Keep Pace in Online Services
by and
President says strategy includes partnerships, ventures

Baidu competing with Alibaba, Tencent in O2O business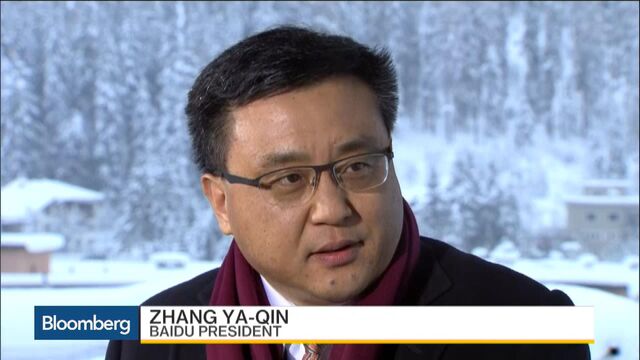 Baidu Inc. is pursuing acquisitions and boosting investments in supercomputing as China's largest search-engine operator tries to gain an edge in the nation's burgeoning online consumer market.
Baidu, which has announced more than $2.7 billion worth of deals during the past two years, is ready to do more, President Zhang Yaqin said in an interview at the World Economic Forum in Davos on Wednesday. Baidu is locked in competition with Alibaba Group Holding Ltd. and Tencent Holdings Ltd. to buy or build Internet-based services ranging food delivery and streaming video to banking and insurance.
"We are in talks with many potential targets. M&A is an important part of our strategy. Internet is a big Eco-system and we will seek more partnerships to help create such a system," Zhang said. "We won't seek controlling stake." 
Baidu shares dropped 0.6 percent to $164.99 in U.S. trading.
China's dominant Internet companies are moving into the so-called online-to-offline arena, which could be worth 7.2 trillion yuan ($1.1 trillion) by 2017, according to Shanghai-based IResearch. The competition is spurring consolidation, including the combination of fashion sites Meilishuo and Mogujie, and the mergers of travel-site operators Ctrip.com International Ltd. and Qunar Cayman Islands Ltd. and group-buying startups Meituan.com and Dianping.com.
To help capitalize on these services, Baidu is spending to improve its supercomputing capacity.
"Voice recognition, picture recognition, machine translation, deep learning and neural networks and all those things will make us competitive in the long term, and in the short term, too," he said.
Services and consumption are doing "pretty well" in China even as the economy slows, Zhang said. The nation's economic growth this year is expected to decelerate to between 6 percent and 6.5 percent.
"In the short-term there is pressure, we have to face it, it takes time to make that transition from manufacturing to services, from labor-intensive to innovation-driven," Zhang said. "I am bullish in the long-term in China."
Before it's here, it's on the Bloomberg Terminal.
LEARN MORE