Apple Seeks to Open First Stores in India as Growth Slows
Company targeting consumers in world's second-largest country

Apple searching for growth as Chinese economy decelerates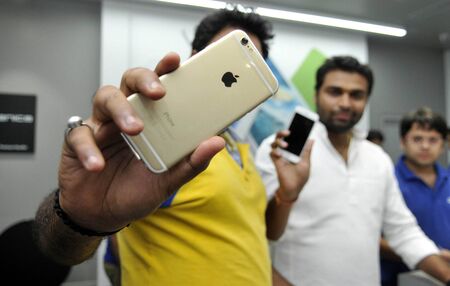 Photographer: Hindustan Times/Hindustan Times via Getty Images
Apple Inc. applied to open its own stores in India for the first time, a strategy that may help it better target a fast-growing market just as iPhone sales may be peaking.
Apple said Wednesday it's filed a request with the Indian government to bring its retail outlets to the world's second-largest country. Emerging markets will prove crucial to Apple as some analysts predict a decline this year in sales of the iPhone, which accounts for about two-thirds of the company's revenue.
Chief Executive Officer Tim Cook is searching for growth opportunities as smartphone sales flatten and China's economy slows. Apple has 2 percent of the Indian market, according to International Data Corp., and needs to make inroads against competitors including Samsung Electronics Co., Xiaomi Corp. and Micromax Informatics Ltd.
Apple mostly uses resellers in India for its products. Redington India Ltd., Apple's main domestic distributor, fell as much as 9 percent on Wednesday, heading for its lowest level since September. Apple's shares are down 8.2 percent this year in New York.
Cutting-Edge
The Indian government in November relaxed sourcing rules for foreign companies seeking to sell a single brand in the country, saying they won't have to procure 30 percent of a product's inputs locally if they are retailing high-technology goods. That paved the way for Apple, which makes most of its devices in China.
"Apple can confirm the filing," the company said in an e-mail. The Economic Times reported that Apple submitted an application to India's Department of Industrial Policy and Promotion. Amitabh Kant, secretary of the agency, wasn't available for comment.
Apple's stores, estimated by some analysts to produce the highest revenue-per-square-foot in the U.S. brick-and-mortar retail industry, also promote the brand by holding workshops for customers.
The Cupertino, California-based company currently has at least 24 stores in China as part of a global network of more than 460. It expects to open or replace as many as 50 stores globally this year, Chief Financial Officer Luca Maestri told investors in October.
Before it's here, it's on the Bloomberg Terminal.
LEARN MORE