American Apparel Founder Charney in Court to Reclaim Company
by
Retailer is seeking court approval of bankruptcy exit plan

CEO tells of disarray left by Charney, problems with sexy ads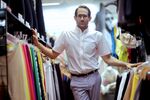 American Apparel Inc.'s fired Chief Executive Officer Dov Charney spent Wednesday morning listening to his replacement describe the mess she said she found after taking the reins at the struggling clothing retailer.
Charney is in Delaware bankruptcy court this week seeking to persuade a judge to throw out American Apparel's proposed reorganization plan in favor of one that lets him return to the company he created.
Current CEO Paula Schneider got the first word in Wilmington, testifying about the financial and organizational disarray she said she encountered last year when she was hired after the board ousted Charney. While her predecessor was in charge, too many managers needed his approval to do anything, she said.
"More than 70 people told me they reported to Dov," Schneider told U.S. Bankruptcy Judge Brendan Shannon. To fix that, she had to "get people to get into their own lanes that we had to develop," she said.
Charney, who declined to comment on Schneider's testimony, is expected to return to court Thursday to press his claim that the board is sabotaging his effort to bring in buyers willing to improve on the Los Angeles-based company's current reorganization plan. Under that proposal, senior lenders will trade their debt for control of the company, reducing its liabilities by about $200 million.
Hagan Capital Group and Silver Creek Capital Partners have offered to buy American Apparel and bring back Charney. Their offer, valued at about $320 million, was rejected by the board because it would add too much debt and because the retailer's lenders opposed the offer, Schneider testified.
Schneider said she also had to change the sexually provocative advertising the company was known for under Charney. Billboards often featured young, scantily clad women. In Europe, the company faced lawsuits over its ads and Facebook wouldn't allow them, cutting into Internet sales, Schneider said.
'Tone It Down'
Schneider said she decided to "tone it down a bit." 
Charney listened to the hearing from the front row of the courtroom, dressed in a gray sport coat and tie, dark dress pants and white running shoes. During testimony, he handed several notes to his attorneys as they waited to cross-examine witnesses.
He was fired in 2014 when American Apparel's board accused him of misusing corporate funds and violating the company's sexual-harassment policy. He has challenged the allegations and fought his firing.
Under American Apparel's reorganization plan, senior lenders including Monarch Alternative Capital LP, would take control of the retailer. To win the judge's approval, the company must show the proposal is feasible, in the best interest of creditors and put together in good faith.
For Charney to win, he must first get Shannon to reject the proposal. American Apparel would then need to try to force Hagan's offer on lenders and lower-ranking creditors.
That could take four months and require Charney and the funds backing him to pay off a $90 million loan that matures in February. They would also have to provide $40 million to $50 million more for the company to use while it pushes for approval of the new proposal, according to the court documents.
The case is In re American Apparel Inc., 15-bk-12055, U.S. Bankruptcy Court, District of Delaware (Wilmington).
Before it's here, it's on the Bloomberg Terminal.
LEARN MORE