Unilever Seeks Revival From New Spreads Chief as Exit Looms
By
Liabeuf replaces Gogarty at helm of struggling division

Change will likely renew speculation about sale: analyst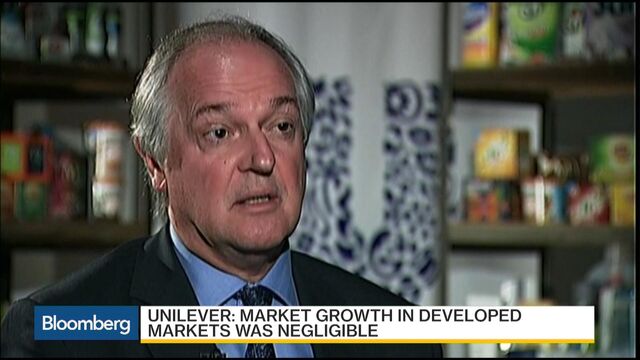 Unilever appointed a new chief to its struggling spreads unit amid speculation that the company is edging closer to a sale of a business whose brands include Flora and I Can't Believe It's Not Butter.
Nicolas Liabeuf, a former senior vice president of marketing operations at Unilever, is replacing Sean Gogarty to lead the division, Unilever Chief Financial Officer Graeme Pitkethly said Tuesday after the Anglo-Dutch company reported estimate-beating quarterly sales. Gogarty had been in the post since December 2014, the same month that Unilever split the spreads business into a standalone subsidiary after two years of disappointing growth.
Should the business fail to revive in 2016 "we will have to think about other things and we are obviously looking at all options so that we don't start from zero if that point arrives," Chief Executive Officer Paul Polman said on a call with investors.

The change at the helm of the unit, which accounted for about 4 percent of Unilever's 53.3 billion euros ($58 billion) in sales last year, will likely renew speculation about an exit, Eddy Hargreaves, an analyst at Canaccord Genuity, said in a note. Polman didn't rule out such an eventuality, but will give the business more time to improve performance.
"I can get rid of this business tomorrow by giving it away to someone, but that's criminal," Polman said. "From the part of the Netherlands I come from, we don't do those things. We need to be sure that we build shareholder value, so if we can find other options that are better for the unit we should do that, if we cannot, we will continue to focus on driving it."
Unilever, whose soaps and detergents are used by 2 billion consumers daily, earlier reported fourth-quarter sales that beat estimates, sending the company's Dutch-listed shares up as much as 4 percent. The performance was boosted by stronger pricing, particularly in Latin America.
"In markets showing anemic growth, this is a pretty resilient performance," Warren Ackerman, an analyst at Societe Generale, said in a note. "The beat is down to pricing. Foods performance remains very disappointing which is firmly down to spreads, with the rest of the division doing well."

A declining market for margarine and price deflation have led sales to drop at the spreads business. Under Polman, Unilever has focused on its health and beauty portfolio, while selling slower-growth food brands.
* Fourth-quarter organic revenue rose 4.9%; analysts had estimated 4%
* Emerging-market sales gained 8.1%, fueled by 12% uptick in Latin America
* "We are preparing ourselves for tougher market conditions and high volatility
in 2016," Polman said