U.S., Russia Start Syria Negotiations Amid Threat to Peace Talks
by
Kerry, Lavrov need agreement on which groups are `terrorist'

UN-sponsored peace talks scheduled to start next week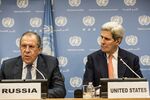 The top U.S. and Russian diplomats began talks in Zurich Wednesday to try to bridge divisions over which belligerents in Syria's five-year civil war should be labeled "terrorist," an issue that threatens to hold up the start of peace talks.
John Kerry and Sergei Lavrov need to strike a deal over who's allowed a seat at the table or United Nations-sponsored peace talks won't start on schedule next week. Presidents Barack Obama and Vladimir Putin, who back opposing sides, failed to settle on a list when they spoke by phone on Jan. 13. The Kremlin and the U.S. State Department said before the talks began that there is still much to do to achieve agreement.
More than three months of Russian airstrikes in support of President Bashar al-Assad have turned the tide of the conflict, which has killed 250,000 people and triggered Europe's worst refugee crisis since World War II. Assad's forces, once near defeat, seized a strategic town on the Turkish border last week and are closing in on an Islamic State stronghold, also near Turkey.
"Russian air power seems to be decisive and has changed the balance of power dramatically," said Joshua Landis, director of the Center for Middle East Studies at the University of Oklahoma. "Assad's forces are winning on the battlefield and believe that is where the real negotiations will be carried out."
Islamic State
The U.S., Russia and other nations have fixed a timetable to form a transitional government within six months and hold elections within a year and a half. Russia has made progress in weakening U.S. opposition to Assad standing for re-election, according to Russian and Western diplomats. While the U.S. still says Assad can't lead Syria over the long-term, the Obama administration has backed away from insisting that he go at the start of a transition process.
The U.S. is leading a coalition to fight Islamic State, which has seized a swath of territory in Syria and neighboring Iraq. The group has claimed responsibility for attacks in Paris and Beirut in November, and the downing of a Russian passenger plane over Egypt in October.
A growing number of European leaders "would be quietly relieved to see Syria's ruler re-emerge in force to tamp down the jihadi menace and stem refugee flows," said Aron Lund, who studies Syria for the Carnegie Endowment for International Peace in Washington.
U.S. Uncertain
Russia considers two radical Islamist militias backed by Gulf states and Turkey -- Ahrar as-Sham and Army of Islam -- as terrorist groups that can't be part of the Syrian negotiations, a Russian official said Wednesday.
The coordinator of a Syrian opposition alliance set up to participate in next week's peace talks said in Riyadh, Saudi Arabia, that it won't take part if any "third party" is invited, the Deutsche-Presse Agentur news agency reported Wednesday. Riad Hijab accused Russia of obstructing the talks by "imposing a list of names on the opposition delegation," the DPA reported.
In Washington, State Department spokesman John Kirby told reporters Tuesday that while it's "still our desire to see" peace talks begin next week, there's "quite a bit of work that needs to be done."
There are "still very sharp differences on the lists, who should be considered good or bad," Kremlin spokesman Dmitry Peskov told reporters on a conference call Wednesday. "There is quite a lot of work to do."
Issuing Invitations
UN spokesman Farhan Haq said on Monday that the world body will only go ahead with issuing invitations for the Jan. 25 talks in Geneva once major powers come to an agreement on which rebel groups should attend.
Saudi Arabian Foreign Minister Adel al-Jubeir on Tuesday said no one should dictate to the Syrian opposition who can take part in the peace talks, Al Arabiya channel reported.
Tensions between Saudi Arabia and Iran, which intensified with the Saudi execution of a dissident Shiite cleric this month, are hampering the peace effort in Syria, Putin said last week. Iran, which supports Assad, is locked in an intense regional rivalry with Saudi Arabia.
But the bigger problem may be that Russia, overconfident from its recent military gains, is overplaying its hand, according to a Western diplomat in Moscow. Putin has to make some concessions to regional powers or Assad won't be able to stop the war and rebuild the country, the diplomat said.
Military 'Momentum'
Frants Klintsevich, deputy head of the defense committee in Russia's upper house of parliament, said the success of the air campaign shows it's "realistic" for government forces to regain full control of Syria.
"It's important we keep up the momentum," Klintsevich said by phone.
Kerry and Lavrov will also discuss the conflict in Ukraine. Putin's main adviser on Ukraine, Vladislav Surkov, held talks on Friday with U.S. Assistant Secretary of State Victoria Nuland that both sides described as "constructive."
With the rout in oil prices deepening Russia's recession, there's a new urgency in Moscow to find ways to get some of the U.S. and European Union sanctions imposed over Ukraine lifted, said Timothy Ash, head of emerging-market strategy at Nomura International Plc in London.
Russia's facing "a much more difficult economic outlook than even a few months ago," Ash said.
Before it's here, it's on the Bloomberg Terminal.
LEARN MORE