U.K. December Inflation Edges Up on Fuel Costs, Air Fares
by
Air fares surge 46% in biggest December increase since 2002

Carney says now is not the time to raise U.K. interest rates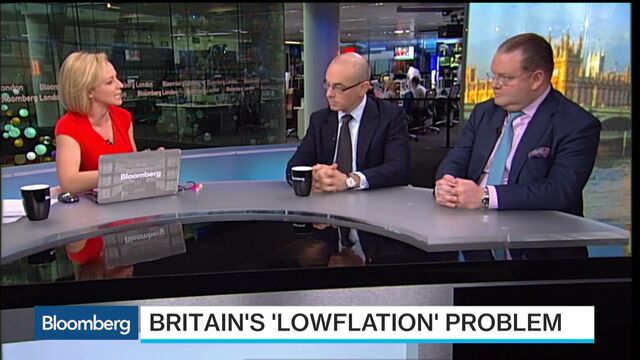 A surge in air fares produced a modest pickup in U.K. inflation in December as lower food prices kept the rate well below the Bank of England's target.
Prices rose an annual 0.2 percent, the most since January, following a 0.1 percent gain in November. Core inflation, which excludes volatile food and energy prices, accelerated to 1.4 percent, the highest in almost a year, the figures from the Office for National Statistics in London show.

With oil at a 12-year low and pay pressures weakening, BOE officials appear to be in no hurry to follow the Federal Reserve in raising interest rates from a record low. Gertjan Vlieghe, the newest member of the Monetary Policy Committee, said on Monday that the lack of price pressure warranted patience and that view was reinforced by BOE Governor Mark Carney today in his first public comments this year.
"December's consumer prices release confirmed that deflation is in the rear-view mirror but there aren't yet any signs which will worry the MPC," said Scott Bowman, an economist at Capital Economics Ltd. in London. "Inflation will be going nowhere fast -- it is set to only average around 1 percent this year -- and the MPC will be in no rush to push through the first rate hike."
The caution among policy makers is partly caused by a loss of momentum in the global economy. The International Monetary Fund cut its world growth outlook to 3.4 percent this year, down from a projected 3.6 percent in October, and China, the second-largest economy, had its weakest quarter since 2009 at the end of last year.
Not Now
"Now is not yet the time to raise interest rates," Carney said in a speech in London. "The world is weaker and U.K. growth has slowed. Due to the oil-price collapse, inflation has fallen further and will likely remain very low for longer."
The 0.1 percentage-point pickup in U.K. inflation was forecast by economists in a Bloomberg survey. The pound rose after the data were published, and traded at $1.4282 at 12:03 a.m. in London, up 0.4 percent from yesterday.
Upward pressure on inflation came from motor-fuel costs, which fell less last month than a year earlier, and from air fares, which jumped 46 percent on the month, the largest increase for a December since 2002. Those offset downward pressures from food, drink, alcohol and tobacco. The price of goods fell 2.1 percent on the year, while services gained 2.9 percent, the most since September 2013.
On the month, consumer prices gained 0.1 percent in December.
Annual inflation averaged zero last year, the weakest reading since 1950, as supermarket wars drove down food prices and fuel costs tumbled. It will only reach 1 percent by the fourth quarter, just half of the BOE's target of 2 percent, EY's Item Club said in a report this week.

A growing number of forecasters now say the BOE will refrain from raising rates until the fourth quarter, having previously anticipated a move in the first quarter. Interest-rate forwards show the benchmark staying at 0.5 percent until at least the first quarter of 2017.
Wage growth, a key metric for BOE policy makers, probably slowed to 1.8 percent in the three months through November, the weakest since January, according to a Bloomberg survey. Data on pay and employment will be released on Wednesday.
Before it's here, it's on the Bloomberg Terminal.
LEARN MORE