Twitter Ex-CEO Costolo Plans Fitness Startup, Joins VC Firm
By
Executive teams up with Oki to start `fun and social' platform

Also tweets he's becoming a partner at Index Ventures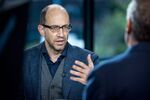 Dick Costolo, who resigned as Twitter Inc.'s chief executive officer last year, is starting a new company -- one that's focused on personal fitness.
Taking to the social-media service he helped build, Costolo tweeted a couple of screenshots of his announcement. He and Bryan Oki, who runs a health and wellness consulting firm, will work together to create a software platform aimed at helping motivate users to work out. Costolo also said he will join Index Ventures as a venture partner, to invest in new companies and work with startups already in the firm's portfolio. 
"For wellness professionals, from fitness coaches to physical therapists and nutritionists and more, our platform will be the easiest and most flexible way to extend expertise and guidance by orders of magnitude," Costolo wrote in the tweet. The "fun and social" system will be designed to work with any type of fitness training, as the industry transitions toward specialized studios and programs, he said. The New York Times reported Costolo's plans earlier Tuesday.
Costolo became Twitter CEO in 2010 after joining the San Francisco-based company as chief operating officer in 2009. Costolo left the top post in July, after spending a year overhauling the management team in an attempt to drive faster user growth and ad revenue, and was replaced by co-founder Jack Dorsey. Costolo exited the company's board in September. The company has failed to meet estimates for revenue and user growth in recent quarters, shaking investor confidence and causing the stock to tumble. It's now trading more than 30 percent below its 2013 initial public offering price.